Misery Gets Company: William Goldman, Author of "The Season," Pens Stage Thriller


*
Though most of the world knows William Goldman as an Oscar-winning screenwriter ("Butch Cassidy and the Sundance Kid," "All The President's Men"), his name also carries some weight in theatre circles. This is due to "The Season," his probing, funny, biting and timeless blow-by-blow analysis of the 1967-68 Broadway season. A classic look at the theatre business, it has never been out of print and can be found in the library of almost every theatre fan and professional.
Few who have enjoyed that book, however, have ever seen a William Goldman play — or knew that he had even written one. Back in the early '60s, Goldman saw two of his efforts produced on Broadway: Blood, Sweat and Henry Poole, a play, and the musical A Family Affair. Each ran a couple months. Goldman hasn't attempted to write for the theatre since — until now.
Goldman, now 81, had adapted Stephen King's novel Misery for the stage; he had previously written the screenplay for the hit 1990 movie version of the thriller, which tells the story of an incapacitated novelist who is held captive in a remote cabin by his greatest — and craziest — fan. The production will receive its premiere at the Bucks County Playhouse in New Hope, PA, for 11 performances Nov. 24 to Dec. 8. Will Frears directs Daniel Gerroll and Johanna Day in the lead roles.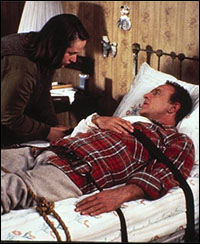 © Metro-Goldwyn-Mayer Studios Inc.

It had never occurred to Goldman that the book or his screenplay — much of which takes place inside four walls — would make a good play. "Never. Never thought it might make a play," he told Playbill.com. "I was involved in the theatre 100-some-odd years ago and it was very painful. Doing something like this is not something that every crossed my mind."

That said, he did not require much convincing when the folks at Warner Brothers and Castle Rock came calling.

"WB Theatre Ventures and our producing partners, Castle Rock Entertainment, talked about bringing our version of Misery to the stage years ago," explained Warner Bros. Theatre Ventures executive vice president Raymond Wu in an email. "Soon after, we partnered with Bill Goldman and Will Frears and are ecstatic that we are on the road to our collective goals for this piece coming true."

When they approached Bill Goldman about it, said Wu, "we had a terrific discussion about the stage adaptation. We were thrilled that he was as excited as we were about this project. His screenplay for the film adaptation is so iconic and we all knew he was the right person to take Misery to the stage."