No Town Like Motown: Navigating the Life, Times and Tunes of Starmaker Berry Gordy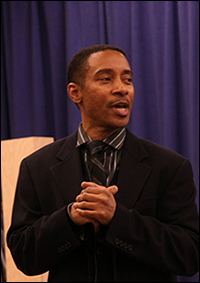 Photo by Joseph Marzullo/WENN

Randolph-Wright recalled one particular moment when Gordy confided in him an episode from his past when he was at his most vulnerable. "We were walking around and he told me this story. I couldn't believe it. I said, 'You want that on stage?' I thought it was very brave. But at this point at his life, what does he have to prove?"

Randolph-Wright added that Gordy, now 83, has no trouble juggling his many roles. After all, it is something he's been doing for decades. "In most cases that would be a challenge," he said. "But he spent his whole career wearing so many different hats. When I'm with the writer, that's who I'm with. The producer is a different person. I am always with the person who's doing all those thing, but in each separate instance I'm with who Berry is at that moment."

Charles Randolph-Wright was one of several directors who interviewed with Gordy. From the start, he thought he was right for the project. "This is in my DNA," he said. He doesn't mean that he grew up with Motown's music (as many of us did) — though that is part of it. His connection to the material is more complex. "I've done every angle of this story. I've been in a music group. I've danced to the music. I've sung it. And I've lived in all those worlds he did, though not the same way he did."

When the marquee was hung on the Lunt-Fontanne, Randolph-Wright glanced down the street and noticed he was only yards away from the Imperial Theatre. In the early 1980s he passed through the stage door of that theatre every night as a member of the original cast of Dreamgirls — the fictional account of the rise of The Supremes, a group Gordy helped found. "What's happened in those years from that show to this show, it's been an amazing journey," he mused. "From the Broadway musical version of this story to the real story."

Motown's greatest asset is the iconic song­book the Detroit-based record label produced; and they'll get ample helpings of that hit parade, including songs made famous by Smokey Robinson and The Miracles ("Shop Around"), Diana Ross and The Supremes ("Stop! In the Name of Love"), Marvin Gaye ("What's Going On"), Stevie Wonder, The Temptations, and Michael Jackson and The Jackson Five ("I Want You Back").