ON THE RECORD: Chaplin, Leap of Faith and Now. Here. This.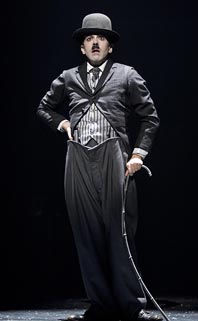 Photo by Joan Marcus

Chaplin [Masterworks Broadway], the first musical of the 2012-13 season, tiptoed into town in September looking like the biggest vanity production since The People in the Picture. Until Scandalous: The Life and Trials of Aimee Semple McPherson came along in November, that is. Like Al Jolson, the great Charlie Chaplin seems to repeatedly attract musical comedy writers and producers. A million dollar title, yes, but it ain't so simple to recreate a one-of-a-kind genius and his entire career in two neat hours. The same holds true, mind you, for Marilyn, Judy or Frank.

In this case, the purveyors of Chaplin started with a hackneyed score (by Christopher Curtis) and a cliched book (by Curtis and the hot-or-cold Thomas Meehan). What they did have, and what made the thing worth sitting through, was an actor playing Charlie who was good enough to stand on his own. Rob McClure is his name, and it's a name that we are likely to see in the Broadway spotlight again and again. McClure did not present a faded copy of Chaplin; he took the essence of the star and developed his own version.

The rest of Chaplin, though, was well nigh unwatchable. And unlistenable. The score was generic and tinkly, with few moments of interest; the exception was something called the "Tramp Shuffle." Most of the showbiz songs sound like rejects from the thematically-related Mack & Mabel, one of the musically worthy flops referred to above.

Mention should be made of Christiane Noll, who as Charlie's mentally fragile mom is given songs that sound like rejects written for Nancy in Oliver!, and Jenn Colella as gossip columnist Hedda Hopper. Colella was given one of those big, wake-up-the-sleeping-crowd numbers called "All Fall Down." The song and the performer didn't win me over at the Barrymore, but it comes across better on CD. Even so, the only assets here aside from Mr. McClure are the orchestrations by Larry Hochman, which add freshness and life that the score lacks.

Visit PlaybillStore.com to view theatre-related recordings for sale.