ON THE RECORD: Rodgers and Hammerstein's Cinderella, plus "Laura Osnes Sings Maury Yeston"


Cinderella [Ghostlight]
Traditionalists, we have noted, generally tend to complain about revised versions of old musicals by revered masters. (Whether, we have also noted, they saw the original or not.) The new production of the 1957 musical Cinderella is no different, complaint-wise. But it is very different.
The first difference being that Cinderella andmdash; as written by Richard Rodgers and Oscar Hammerstein andmdash; is not a Broadway musical. Or a stage musical, even. Julie Andrews attained overnight stardom when My Fair Lady opened in 1956, and CBS wanted to star her in a made-for-television special. How much more special than to get the reigning kings of Broadway to write a score for the newly-crowned queen? For Rodgers and Hammerstein this was a timely request; since 1951 they had come up with only two musicals, both poorly-received disappointments (Me and Juliet and Pipe Dream). For a pair accustomed to turning out a blockbuster every two years or so, this was a troublesome drought. There are several stories circulating about the genesis of the property, but it seems clear that the project began with the star rather than the writers.
Rodgers and especially Hammerstein knew how to write full-fledged, fleshed-out Broadway musicals. But that's not what they were attempting here. They were creating a fast-moving 90-minute TV special; after carving out time for the necessary commercials, that translated to 76 minutes of running time. Nowadays, we sometimes actually see Broadway shows of 76 minutes, but in 1957 it was unheard of to have a show that short. In fact, in those days the first act alone of most musicals averaged 75-90 minutes.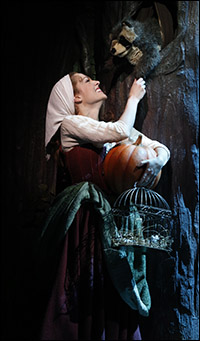 photo by Carol Rosegg

If Rodgers and Hammerstein had been writing Cinderella for the stage, they would have written a standard-length musical. (The current Broadway version runs about 125 minutes, not including intermission.) Hammerstein would have provided a more intricate and longer book, while the songwriters would have written considerably more than the eight songs used in Cinderella. There was also a Rodgers-style Waltz — a good one — plus one song ("If I Weren't King") that was cut in rehearsal and presumably not very good.

How do you add 50 minutes to something that lasts little more than an hour? This is somewhat more practical if the authors are still around to contribute. Something of the sort was done by Lerner and Loewe when they adapted their 1958 film "Gigi" to the stage in 1973, writing a clutch of new songs for the occasion. Not successfully, as it happens; the new material was clearly inferior to the old, and the magic of the film dissipated. But at least the new Gigi material had the same flavor as the old, written by the same writers for the same characters.

Unlike Gigi, Rodgers and Hammerstein's Cinderella has had a strong presence since that first live telecast on March 31, 1957, which was the fourteenth anniversary of the opening of Oklahoma!, as it happens. London's Harold Fielding presented the first stage production on December 18, 1958 at the Coliseum, starring Tommy Steele. How to blow up the show to the proportions of a traditional Christmas pantomime? By devising a new book with Steele playing Buttons, a newly-invented servant to Cinderella's newly-invented father, the Baron. (Hammerstein was billed as lyricist, with no bookwriter credited.) And what to do about the skimpy-for-full-length score? Let Tommy sing "A Very Special Day" and "Marriage Type Love" from Me and Juliet, and also give the Prince that same show's "No Other Love." The latter, musically, was devised as a lilting WWII tango of the southern seas, "Beneath the Southern Cross," for the TV documentary series "Victory at Sea." Not quite Cinderella-flavored, but no matter. Steele also wrote himself an eleven o'clock number, "You and Me." This production was revived in London in 1960.