ON THE RECORD: Rodgers and Hammerstein's Cinderella, plus "Laura Osnes Sings Maury Yeston"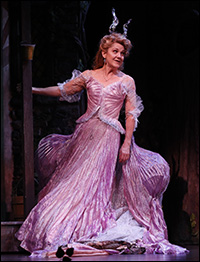 Photo by Carol Rosegg

But that was just the beginning of Cinderella's journey, although it took more than fifty years for the glass-slippered gal to reach Broadway. A stage version, with book by Donn Driver (of Your Own Thing), was done in 1961 at the Cleveland Musicarnival and the St. Louis Muny. This served, for many years, as the licensed version of the show. In 1965, Rodgers decided that Cinderella should return to television. As the original had not been videotaped, this meant an all-new telecast. Rather than using Hammerstein's suitable-for-live-television script, a new one was written by Joseph Schrank; Hammerstein had died in 1960. The original score was used, with one addition: "Loneliness of Evening," a deleted item from South Pacific, for the Prince. The success of this version resulted in eight annual rebroadcasts. (It is hard to imagine in these days of repeats, cable channels and instant access, but there was a time when you could only watch a TV program on the night it was actually broadcast.)

Following the death of Rodgers in 1979, oversight of the property gradually loosened. Here you had a viable title, but only 76 minutes of material. An ever-increasing audience hungered for grand new productions of that beloved Rodgers and Hammerstein Broadway musical Cinderella; in reality, though, there was no such thing. Another revised script, more closely reflecting the original telecast — but with "Loneliness of Evening" and "Boys and Girls Like You and Me" (a cut song from Oklahoma!) added — became the official licensed version sometime in the 1980s. The most prominent production since London came in 1990 at the Pantages, from the Los Angeles Civic Light Opera, starring Steve Allen as the King and Rose Marie as the Fairy Godmother. Allen seems to have added jokes; when New York City Opera produced the show in 1993, Allen not only starred but was credited for the book, which was apparently lousy.

The City Opera production was revived in 1995, after which came the Whitney Houston television version in 1997. This one added "The Sweetest Sounds" (from No Strings), "Falling in Love with Love" (from The Boys from Syracuse), and "There's Music in You" (which had been written for Mary Martin in the 1953 film "Main Street to Broadway"). A 2000 national tour — which briefly visited the Theater at Madison Square Garden in 2001 — starred Eartha Kitt as the Fairy Godmother; the City Opera offered their third production in 2004, also starring Kitt, and a 2008 Asian tour starred Lea Salonga.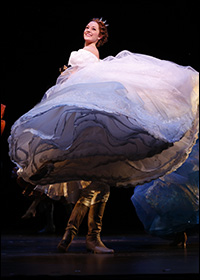 photo by Carol Rosegg

So it's safe to say that Cinderella has been around, in various guises, since Rodgers and Hammerstein sat down to write the thing in the fall of 1956. More to the point, none of these many subsequent Cinderellas has particularly reflected what the two originally wrote. This brings us to the new and "original" Broadway production, presently enjoying million-dollar weeks at the Broadway Theatre. Or more specifically, to the Ghostlight original cast recording of that production. As a result of which we shall not dwell on the book by Douglas Carter Beane which, and here I quote, "offers a new romantic twist on the ultimate makeover story of a maid-turned princess, mixing fresh comedy and wit with the beloved tale's classic elements." This seems opposed to Hammerstein's original intent — "there will be absolutely no updating, no naturalistic or Freudian explanations" — but so be it. Perhaps Hammerstein would have gone about things differently if he had been writing a full-scale musical in the first place.

Musically speaking, we have what might be called a split decision. The Cinderella score — that is, the portion of the score that Rodgers and Hammerstein actually wrote to be used in Cinderella — sounds pretty wonderful. The main songs — "In My Own Little Corner," "Impossible," "Ten Minutes Ago," "Do I Love You Because You're Beautiful" — are perhaps not ageless standards, but they work perfectly well and are overloaded with charm. David Chase has done an especially fine job on the adaptation — that is, translating the songs to fit the new book, altering the vocals, and transforming the tunes into dance arrangements. In this he is matched by orchestrator Danny Troob. (While Troob has spent many moons with Disney, we are pleased to report that this Cinderella sounds not like Disney, but like Rodgers and Hammerstein.) The work from Chase and Troob — on the original Cinderella songs, at least — really does sound like it would please Rodgers.