ON THE RECORD: Rodgers and Hammerstein's Cinderella, plus "Laura Osnes Sings Maury Yeston"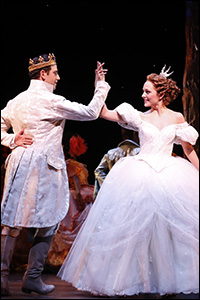 Photo by Carol Rosegg
But one cannot imagine what Rodgers and Hammerstein would think of the additional songs that have been cobbled together to fill out the evening. Take "Me, Who Am I?," a song so ineffective that they saw fit to cut it from their weakest musical (Me and Juliet). Who would think to dig it out and showcase it, sixty years later? "Now Is the Time" is the martial song that Emile de Becque sang when he stormed off to fight the Japanese, realizing that he couldn't just sit out the war living on a hillside looking at the ocean. It was ultimately unused in South Pacific except as underscoring, and it isn't especially compelling or suitable for Cinderella's Prince. Yet here it is. They give us a slice of that same musical's "Bright Canary Yellow," which the boys discarded for the superior "A Cockeyed Optimist," as well as "Loneliness of Evening," which, at least, was chosen for insertion by Rodgers himself. There is also a bit of Allegro patched in, in a couple of spots. All of this faux-song sculpting necessitates more than a few non-Hammerstein lyrics, which stand out for their awkwardness.
What, one imagines, would Rodgers and Hammerstein make of all this? Songs that they themselves relegated to the discard pile, magically reappearing now? One assumes that they would have a problem of a different sort with what's been done to the "Stepsisters' Lament," here retitled "Stepsister's Lament." That's right. This delectable and perfectly-contrived duet, which must have pleased Rodgers and Hammerstein no end while they were writing it, and after, is now a solo. Not unentertainingly, but for no discernible reason (as the new libretto retains the two comic stepsisters). I don't suppose that Oscar Hammerstein was ever heard to utter "Ummm," but I can picture him saying, "Ummm...but that's not what we wrote."
Even so, the authentic Cinderella material on the CD sounds lovely, and Laura Osnes and Santino Fontana, who received Tony Award nominations for their efforts, do enchantingly well. Seeing as how they are both likely to go on to major Broadway careers (unless stolen away by sitcomland), you might want to go out of your way to make their acquaintance. As for this cast album, let's chalk it up as a grand success for fans of this "new" Broadway musical, even if several of the script and score choices leave some of us less than convinced.
Laura Osnes: If I Tell You, The Songs of Maury Yeston [PS Classics]
Between creating the roles of Bonnie (as in Bonnie and Clyde) and Cinderella (as in Rodgers and Hammerstein's Cinderella), the above-mentioned Osnes was omnipresent on the special events scene. Pipe Dream at Encores, The Sound of Music at Carnegie Hall, a showcase of her own at Cafe Carlyle and more. Included among her engagements was "Laura Osnes Sings Maury Yeston" last November at 54 Below. Osnes and Yeston, it turns out, are a pair well met. Mutually pleased with the results, the composer not only decided to bring the singer into the studio; he wrote two new songs for the occasion, one of which, "If I Tell You," serves as the album title.
The entire CD is good enough to prevent me from citing separate tracks, although I am pleased that Osnes has seen fit to sing one of my favorite Yeston songs (the superb "New Words," from the problematic In the Beginning). None from the haunting Death Takes a Holiday, though, and nothing whatsoever from Yeston's little-known but worthy Phantom — both with leading roles that would suit Osnes.
The heart of "If I Tell You" (ten of 17 tracks), consists of Yeston's 1991 song cycle "December Songs." I must confess that I was unimpressed when I first heard these sung by Andrea Marcovicci, who introduced them at Carnegie Hall; so much so that I haven't listened to them since. Blame me, or blame Marcovicci, but they left me cold as, well, December in Central Park (which is where the cycle is set).
My disappointment at the time was that the songs somehow "didn't sound like Yeston." With Osnes, though, the cycle is compelling, dramatic, comic and altogether engaging. So in addition to giving us a fine collection of the songs of Maury Yeston, Osnes — for me — rescues "December Songs" and adds it to my favored Yeston shelf.
(Steven Suskin is author of "Show Tunes" as well as "The Sound of Broadway Music: A Book of Orchestrators and Orchestrations," "Second Act Trouble," the "Broadway Yearbook" series and the "Opening Night on Broadway" books. He can be reached at Ssuskin@aol.com.)