ON THE RECORD: Stephen Schwartz's Working


*
Working [Masterworks Broadway].
It is impossible to discuss the travails of Working — arguably Broadway's most spectacular failure of the late 1970s — without first talking about Stephen Schwartz, who spearheaded the enterprise. "Spearheaded" meaning that he adapted the non-fiction book by Studs Terkel and directed, in addition to writing a significant portion of the score.
Current-day audiences know Schwartz, mostly, as composer/lyricist of Wicked. The show, which has been drawing them in since 2003, did not much please the critics or the awards-voters, no; but that slight turns out not to have hurt the enterprise all that much. Yes, the creators and producers and investors of The Producers, Hairspray, Avenue Q, and Spring Awakening can all proudly point to their sterling reviews and their sterling Tony Awards, and I don't imagine one of them would care to trade shows. Still, I suppose there comes an occasional dreary and drab morning when they wake up and think, "Wicked grossed $2 million last week, how long before I can get a Broadway revival of my show? And how much is 2 percent of two million a week, anyway?"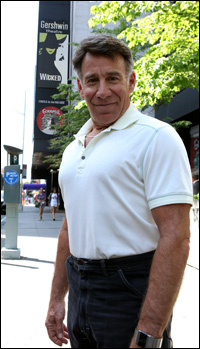 photo by Jeremy Daniel

But that's the Stephen Schwartz of the 21st century. He first appeared — as a 23-year-old hotshot out of Carnegie Tech (now Carnegie-Mellon) — with the 1971 Off-Broadway hit Godspell. At a time when few theatre composers wrote contemporary music, Schwartz clearly had the touch as demonstrated by "Day by Day." The following year he put his stamp on Broadway with Pippin. This was a hit, sizable though not phenomenal, with Schwartz's score again speaking to and attracting younger audiences.

But Pippin was creatively problematic; the general consensus — if you don't mind generalities — was that the book and score were nowhere near as good as Bob Fosse's staging. What's more, word got around that Schwartz had fought Fosse every step of the way, or many steps of the way; that Fosse had, not unsurprisingly, prevailed; and that — fairly or not — it was Fosse who elevated the so-so material into a hit.

Next came The Magic Show, as empty a musical as any that ever ran over 1,900 performances. The show's gimmick — magic from Doug Henning, who was briefly a celebrity magician — didn't call for much in the way of songs or story, and that's what the authors successfully provided. When the long-running Godspell moved to Broadway in 1976, Schwartz suddenly had three hit musicals running simultaneously. (What would have been the fourth didn't make it: The Baker's Wife underwent a long and vitriolic pre-Broadway tryout before folding ignominiously just before Godspell moved to the Broadhurst.)

Visit PlaybillStore.com to view theatre-related recordings for sale.