ON THE RECORD: The New Broadway Cast Album of Kinky Boots and Audra McDonald's "Go Back Home"


Kinky Boots [Masterworks Broadway]

Broadway's big winner at the 2013 Tonys was Kinky Boots, which took six awards including Best Musical. Cyndi Lauper's score won as well, receiving high praise in many quarters. The show, which opened on April 4, quickly worked its way into a significant hit, and has steadily been the highest-grossing new musical of the past season. Masterworks Broadway has now brought us the original cast album, which we are told is the fastest Broadway seller since The Book of Mormon.

Kinky Boots is a crowd-pleaser, yes, and it is safe to say it's the best new American Broadway musical of the 2012-13 season. I must confess, though, that I wasn't quite so swept away as some of my critical colleagues. No matter; I am clearly in the minority, and that's okay with me. Most people I run into who have seen the show loved it; many others have expressed their eagerness to see it. I guess that is why they are breaking $1.6 million a week.

For me, the new musical about distressed shoemakers in a distressed town in a distressed time directly brings to mind two relatively recent musicals, The Full Monty and Hairspray. (The three, not so coincidentally, share the same choreographer: Jerry Mitchell, who also served as director of the current show.)

The Full Monty came from David Yazbeck, a first-time-in-the-theatre composer who turned out to have the Broadway-song gene inbred. The Monty score wasn't quite successful for me. Some of the songs were excitingly right, real-seeming characters expressing themselves to inventive music with true-sounding and often sly lyrics. At other places, though, it sounded like someone told the composer, "We just need to plug a song in here." Yazbeck did just that, but I found these spots to be the musical comedy equivalent of filler. (Let us add that he quickly figured it out. While The Full Monty was the work of a beginner, his subsequent Dirty Rotten Scoundrels and Women on the Verge of a Nervous Breakdown were the work of a seasoned and skillful pro.)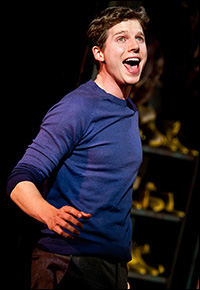 photo by Matthew Murphy
Hairspray also came from a new-to-Broadway composer, technically speaking; but Marc Shaiman, before embarking on considerable success in Hollywood, had been a busy Broadway pianist/arranger. Sure, there are some production numbers in Hairspray that might qualify as "filler," but Shaiman (working with co-lyricist Scott Wittman) saw to it that they enhanced the show and were exceedingly droll as well.
With The Full Monty and Hairspray as examples, Kinky Boots sides more closely with the former than the latter. The new musical came from yet another first-timer, yes; but one who has sold over 80 million albums, nabbed Grammys and Emmys, and whose work has often displayed humor and flavor. Lauper's songwriting abilities, it turns out, transfer well to the stage. "The History of Wrong Guys," a song that comes along late in the first act of Kinky Boots, delightfully demonstrates that Lauper has a future on Broadway if she so desires. This is a wonderfully devised and written song, by the way, which works on many levels. It is perfectly performed on the cast album by Annaleigh Ashford, who earlier in the season also stood out as the girl with the blackened-out teeth in Dogfight.
Ashford supports the top-billed Stark Sands and Billy Porter, both of whom do good work. I have found Porter to be an exciting performer since I first saw him in the legendary Adam Guettel concert at Town Hall in 1999, holding his own against a group of talents including Audra McDonald, Jason Danieley, Theresa McCarthy and Jubilant Sykes. He was an excellent Belize in the 2010 Signature revival of Angels in America, and with Lola in Kinky Boots has found himself the perfect role and a Best Actor Tony Award.
The Kinky Boots score is at its best when it is smallest; when the songs got big and flashy, in the theatre, I found myself overly distracted from the characters. Listening to the CD now, I find myself surprised: I appreciate the score considerably more than I did the first time through, sitting at the Hirschfeld — enough so that I'm thinking I might go back and give it another try. Playgoers who loved Kinky Boots in the theatre will surely be delighted with the cast album.