ONSTAGE & BACKSTAGE: A Carnegie Hall Celebration and Chatting With the Heathers





Photo by Chris Cassidy

The last time we performed together in Santa Monica Adam told me about a hilarious/horrifying experience he had at a concert in Florida; years ago, he was touring by himself and singing his original songs. One night he was in Florida and performing for a typical Floridian audience (over 65 and Jewish). Around three quarters of the way into his show, he began to hear someone in the audience yelling out "Excuse me! Excuse me!" Turns out, it was an elderly Jewish man who wanted to say something to Adam. And by "say something" I, of course mean, "complain about something." The man said, "Listen, I'm sure your music is very nice, but we came here to hear some Broadway songs!" Adam explained that the show was advertised to feature his original music but the man wouldn't quiet down. "We want Broadway! We want Broadway!" Finally, when it looked the audience was on the verge of a revolt, Adam thanked everyone and said goodbye, cutting the last few songs in his set before a riot broke out.

When he got backstage, the theatre owner apologized profusely. Adam assumed he shouldn't go to the reception, but the owner insisted and said it would be fine. When Adam showed up, another elderly man came over to say something, aka complain. "Listen, why did you run off the stage? You just left!" Adam explained that he didn't run off the stage. He had thanked everyone and said goodbye, and he felt it was appropriate because it seemed that people didn't want to hear the music he was performing. The man insisted he did want to hear Adam's original songs and he came there expecting to hear the whole concert. Suddenly, more and more people at the reception started joining in the yelling and saying the concert was too short. "We wanted more!" Finally, the theatre owner scurried over and whispered frantically to Adam. Turns out, after insisting that Adam should come to reception, he now told him that he, in fact, better get out of there ASAP!

That's right, Adam had to flee what was basically a retirement community before things turned ugly. He and I are both Jews from Long Island, and we know there is nothing more terrifying than altacockers who feel cheated. Just ask anyone in my mother's shul who's seen the crowd's reaction when someone's cut the line at the bagel Kiddush. Not since the film "Warriors."

At the Actors Fund post-show reception, James and I were seated with Michele Lee, who is so much fun. She played a dancer in Seesaw and I mentioned her great legs and how she wasn't showing them off in her current outfit. She told me she'd let me see them but she'd be subtle about it. She got up from the table, hiked up her pants an inch so I could see her ankle and then suddenly hiked them all the way up to expose the entire gam. Yowza! In conclusion, her legs are amazing and her version of subtle would play well in a stadium. At the end of the night, I took some pics of her and James but she kept checking them and telling me that James needed to learn the proper picture angle. She put both hands on his head and kept adjusting his hair and head angle. For ten minutes. It was adorable. As we left, I asked James the same type of question he asked me after Carnegie Hall; he grew up a major "Knots Landing" fan and I wondered what he would have felt as a young boy in Texas if he knew that one day he'd be sitting with Michele Lee and she'd be teaching him the art of the perfect head angle for a pic. In conclusion, being in show business and living in New York is amazing!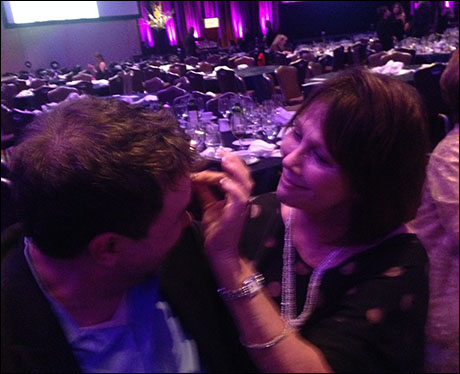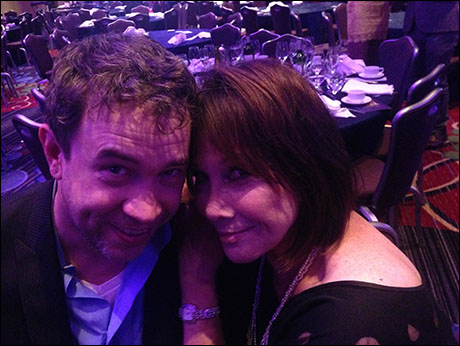 Speaking of James and show business, his play Unbroken Circle was just published! It's getting its regional debut at the Woodlawn Theater in San Antonio, TX this fall, but you can read the play and/or license it by going here. And speaking of Unbroken Circle, James and I were freaking out Tuesday morning when we heard that Anika Larsen got a Tony nomination! She played his sister at the St. Luke's Theatre and was cast in Beautiful: The Carole King Musical during the run of the show. This has been an amazing year for her: Unbroken Circle was the first straight play she was ever cast in, Cynthia Weil was the first featured role she ever originated on Broadway and now she has her first Tony nomination! We're so happy for her! Here's the "Obsessed" video I did with her where I highlight why I love her voice.

Speaking of voices, I saw Audra McDonald in Lady Day at Emerson's Bar and Grill. Not surprisingly, she was fantastic. We were texting afterwards and commenting that she did the most belting in that show that she's done since the Dreamgirls concert I put together for the Actors Fund in 2001. I just found this clip, and it's so fun to see where everyone from the Dreamgirls concert is today: Lillias White and I recently did the Playbill cruise and she just got a rave review in the NY Times for her show at 54 Below, Heather Headley's won a Grammy, Billy Porter won a Tony, Norm Lewis is starring as the Phantom and Audra is up for her 6th Tony award. Brava!