ONSTAGE & BACKSTAGE: A New Member Joins the Unbroken Circle Family and Flea Market Festivities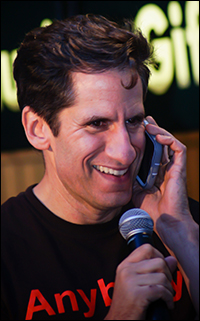 Photo by Lillian Robinson

Matt came in and we flipped out from his sexiness and unbelievable voice. Haven is not only stunning, but her singing was amazing in terms of clarity her tone and her version of "Part of Your World" had the creative team guffawing out loud/crying with laughter. I'm going to do an Obsessed video of it so everyone can see. Speaking of Disaster! we start rehearsals in one week! Get your tickets/info at DisasterMusical.com and "like" our fabulous new Facebook page!

At the end of the Broadway Flea Market, I went to the auction area where I auctioned off two tickets to Unbroken Circle, two tickets to Disaster!'s opening night (Nov. 4) and a chance to co-host with me on SiriusXM. Two people in the audience were going back and forth and finally one went up to $4,000 (wowza!) but the other one stopped. I asked the lower bidder (from the stage) why he halted and he said he was bidding for someone else and wasn't supposed to go above $3,500. Hmph. I glared and he said I could call the bidder if I wanted. Of course I said yes. He dialed the guy's number (who, incidentally was actually named "Guy") and I took the iPhone onstage with me. Guy answered and I, into my mic, had a conversation saying that I was Seth Rudetsky and he could win the auction if he went above cheapskate $3,500. Guy said yes and I gave the package to both bidders, so BCEFA got $8,000! Shaming someone in public works!

Sept. 22 was not just the flea market; it was also Juli's birthday! And not any old birthday, her 13th birthday! She's now officially a teenager. I remember how much "fun" I was as a teenager with my parents and I can't wait for the next few years. How do you spell karma? Anyhoo, the downside of Juli's birthday was that James and I couldn't spend much time focusing on it because the flea market was from 10 AM-6:15 PM for us and in the middle James and Juli had to do a matinee of Unbroken Circle. But Juli's taking a page out of my birthday celebrations and extending her birthday well past the expiration date. We're going out to dinner Monday with Grace James (daughter of Brian d'Arcy James and Jennifer Prescott) and later in the month she's having a birthday sleepover with Zoe Donavan (Audra McDonald's daughter). Not only does her birthday extend for weeks, it also apparently can only be celebrated with the children of Broadway stars.

On "Seth Speaks" this week I had a really fun mix of people. First Edward Hibbert came by and discussed "Frasier," on which he was just hired for one episode! The feedback for him was so fantastic, he continued with the show for the entire run. The crazy thing is, whenever Edward goes to L.A., he doesn't drive. It's not that he doesn't like to drive, he literally doesn't drive! I don't like to drive either, but I have a license. He does not. He said he wants to write a book called "How To Enjoy L.A. Without a Drivers License". He claims it will be four pages long.

Edward has performed all over the country and England and he told me about he time he was doing a big highfalutin' drama with famous British actors like Maggie Smith. The last part of the show was that signature type of scene where the whole cast comes onstage for the denoument, dressed in their most stunning finery. Edward noticed that one of the women looked extra large. Could she have gained an enormous amount of weight during intermission? Upon closer inspection he saw that was indeed wearing a stunning gown... and attached to that was the gown she wore in the first act! It had somehow gotten tangled in the dressing room and she entered the stage with both dressed combined. I guess the audience thought it was the ol', "I couldn't decided which dress to wear so I just decided to wear both of them" routine.