ONSTAGE & BACKSTAGE: Apple Picking With Audra, and Making 'Em Laugh With Andrea Martin at 54 Below


*
This week always reminds me of Kiss of the Spider Woman. Why? Because my niece Rachel Sarah's birthday is on Oct. 15, and when my sister first started contractions, I was playing keyboard in the Spider Woman orchestra. That was 17 years ago! Yowza! I remember calling the hospital room during intermission and talking to her husband, Allan. Nancy was in labor and I could hear her caterwauling in the background. Allan told me to check in later because she was about to get an epidural. I called back after the second act and the contrast, because of the epidural, was crazy; Nancy picked up after one ring and not only was there no more screeching and screaming, I simply heard a calm "Yello?" Huh? Epidurals are that literal? Was this the same Nancy who was bellowing an hour before? I said a tentative, "Nan?" She responded with a matter-of-fact, "Yep. What's up?" I guess "epidural" is code for Xanax.
This week began with a trip upstate along with James, Juli and Audra McDonald, plus family, to go apple picking. It brings up the philosophical question: if you go to pick apples and there are no apples, are you still apple picking? The orchard was so crazily barren! Not since Anatevka. Apparently the weather was too warm this summer for apples (thank you to people in denial about global warming) and the apples that happened to grow were snatched up by families who got there earlier than us. We finally were able to scrounge up a few apples but every time I picked one up, I found myself doing the same face and gesture Mary Tyler Moore makes during the opening "Mary Tyler Moore Show" credits when she picks up that package of meat. Even so, we all had a great time and sent this photo to Will Swenson (Audra's husband) with the caption "The most busted orchard ever."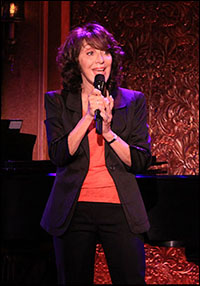 photo by Joseph Marzullo/WENN

On Tuesday I did the first of three shows with Andrea Martin at 54 Below and performed a section where she told the audience why she had to cancel her shows back in June. The publicist sent out a release saying she had bronchitis but that's because no one really knew what was wrong. It took nine days at Lenox Hill (!) and a four-hour surgery to discover that she had a strep infection that led to another infection deep inside her throat that had to be taken out. Thankfully, she's completely fine now but the whole thing was nerve-wracking…and hilarious. She told the audience about having to take various MRI's. "If it hadn't been for the years of meditation technique, I don't think I would have survived it. I kept breathing calmly, counting, thinking of my sons and how grateful I am….and occasionally why Katie Finneran got the part of Miss Hannigan and not me." The audience loved it! P.S., Andrea wrote a hilarious email during this time period and after she described the MRI she wrote, "When I finally was taken off the table, I said to the technician that the procedure was torture, and he replied, 'I'll tell you what torture is, having dinner with my son.'" It sounds like Borscht Belt humor but it's true! Andrea also shared with the audience that Debra Monk was with her every step of the way and when Andrea was heading into surgery Deb held her hand and whispered, "I'm cancelling everything tomorrow to be with you." Andrea said that she suddenly snapped out of her drugged state to angrily ask, "What the hell do you have planned for tomorrow?" Andrea then shared: "Deb showed me her calendar, and sure enough she cancelled her walk."

This all led to a song that Scott Wittman and Marc Shaiman wrote for her a few days before the concert. The premise was that after the hospital experience, she re-examined her priorities and called her agent to tell him that she no longer wants to do comedy parts. She told him she wants to show her dramatic chops. Her agent responds with the following (Sung to the tune of "Make 'Em Laugh"):

BE A CLOWN! BE A CLOWN! DON'T YOU KNOW ALL THE WORLD LOVES A CLOWN?
I SAY MY "BLANCHE" WOULD CAUSE 'EM TO WEEP
HE SAYS "YOU AIN'T MERYL STREEP!"
GIVE ME SHAW! GIVE ME INGE
HE SAYS "DO YOU WANT BRANTLEY TO CRINGE?"
MY HECUBA WOULD LEAVE THE PUBLIC GASPING FOR BREATH
I TELL HIM A COULD REALLY SCORE AS LADY MACBETH
HE SAYS HE'D RATHER SEE THAT PART IF IT'S PLAYED BY SETH
BE A CLOWN, BE A CLOWN, BE A CLOWN….

Hilarious!