ONSTAGE & BACKSTAGE: Catching Up With Jane Krakowski and Picturing a Disaster!
Hello from up in the air! I'm on a Jet Blue flight to New Orleans, sitting next to Jane Krakowski. She's the first person performing in the Broadway @ NOCCA series, and we're sitting next to each other on the flight. Let me say for the record, it's not fun sitting next to someone with such an amazing figure. I never felt fatter as I ordered two (2) snacks and then heard Jane simply ask for water. I kept staring at her, waiting for her to eat something, and finally, two hours into the flight she had one (1) piece of sugarless gum.
Regardless, we were going over our past experiences together and remembered that we both worked on the Rosie O'Donnell TV show. We weren't focusing on the talk show (which I was a comedy writer for from 1998-2000). No, we were both part of the variety show called Rosie Live — the one that got some of the worst reviews I've ever read! If you were busy that night, you might not remember that Jane did a song and dance telling the audience what the prizes were in their goodie bags. Jane told me that critics wrote her performance was a career low. We were laughin, remembering it all, and after she told me about that comment, she shook her head and said, "Career low? I was like, 'Oh, honey, have you seen some of the other stuff I've done?'" Hi-lar.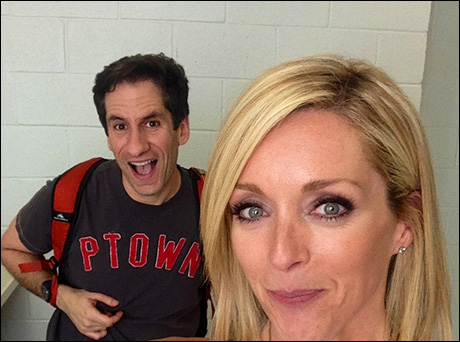 Before the flight, I rushed to get to JFK from Disaster! rehearsal. We finished our first week and next Monday, Oct. 14, is the first preview! One of the most thrilling things that happened this week concerned our logo. When we first did the show last year, we had an artist make a logo that consisted of the word "Disaster" crumbling with flames around it. For this production, we wanted something else added to the logo to indicate that the entire score was hit songs from the 1970's and that it was a comedy, so a disco ball was put above it the flaming letters.

The producers and I "signed off" on it, but we all thought it still wasn't exactly what we wanted. The background was dark, which made it too serious, and it didn't seem comedic. Finally, Jack Plotnick (my co-writer) and his friend Tom Lenk (from "Buffy the Vampire Slayer" and Rock of Ages) were talking, and Tom told Jack in no uncertain terms that we had to get a new logo. Jack asked me to make a list of what we wanted. I wrote that it should indicate that it's a disaster movie, but it's a musical, it takes place in the 70's, with all 70's songs and it's really funny. Jack recently directed a film with Matt Bomer, Liv Tyler and Patrick Wilson and he told me that Reagan Marshall, who designed the poster, was brilliant. Jack sent me the guy's resume and I saw he had a ton of Hollywood films like "The Descendants," "The Kids Are All Right" and "The American."

Yowza! I assumed he was too big to do an Off-Broadway show but Jack asked him if he would do our poster and do it quickly and he said yes! We were thrilled... but because I'm not an artist and know nothing about poster design, I couldn't imagine what he'd be able to do that would get all the elements across. On Saturday night I was walking my dog when Jack called me and said, "Well, he's done it again. The design is perfect!" I finished Scooby's walk, took off her leash and nervously checked my email. Jack was right! I was so crazily happy! It made me appreciate artists so much. With one image, Regan was able capture the essence of the show in such a funny, joyous way. Brava!