ONSTAGE & BACKSTAGE: Disaster! Ends Its Off-Broadway Run and More Memories from the Cruise


*
Last week was the final performance for Disaster! Sad face. I can't give details but it wasn't the final performance ever. Regardless, it was the end of our run at Theater at St. Luke's and right before the last two shows, Tom Farrell asked me who in the cast had never missed a show. We realized it was three people who had perfect attendance: Our stage manager Jeff Davolt, the boy who plays twins Ben and Lisa (Jonah Verdon) and our male lead (Matt Farcher). We marveled at their perfect record.
I'm not saying we tempted fate but I've never seen a more clear example: The next night at 11 PM, Matt texted us that he had no voice whatsoever. We got him an emergency appointment with an ENT for the next morning and also called his understudy, Max Crumm, to tell him to prepare. If you don't know, Max won the role of Danny on the Grease reality TV show and has been in Disaster! playing the role of the nerdy sidekick, Scott, for two months. He's also the understudy for Matt, and he's had one understudy rehearsal. He was not overjoyed when I called and told him he might have to go on for the second–to-last show. Well, Thursday came, Matt went to the doctor but didn't get better so at 7:30 PM that night, Max was on for the lead for the first time. Turns out, he was amazing. Not just, "Oh, he got through it," but more like, "He's an amazing actor with a great voice." Having an understudy on always makes the show so exciting for the people onstage, and that night was extra thrilling.
Every night last week was so exciting. We had lots of celebrity friends come see the show on Monday and Tuesday; Ana Gasteyer, Jane Krakowski, Casey Nicholaw, Adam Heller, Beth Leavel, Donna Murphy, then Max went on Thursday night and Friday had the full cast for the final show.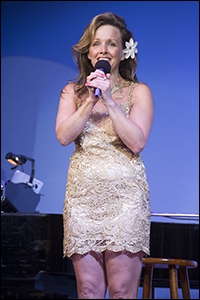 photo by Monica Simoes

I'm still so far behind in terms of Playbill cruise stories! That Tahiti vacation was jam-packed, so let me wrap it up in this column. On Wednesday Alice Ripley did a show where she sang up a storm and told tons of theatre stories. One of the stories I love was about a production of Little Fish she did in L.A. in the mid-2000's. She played opposite Chad Kimball and Gregory Jbara and they earned... wait for it... $39 a week. Alice loved doing the show but it was a little hard to make ends meet on that salary. She thought it was so cool that in a little bit of time, they were all on Broadway! Chad Kimball was playing Huey in Memphis (Tony Award for Best Musical), Greg was playing the Dad in Billy Elliot (Tony Award for Best Featured Actor) and she was staring in Next To Normal (Tony Award for Best Actress)! From $39 to Tonys! She also spoke about how when she was young she was obsessed with Evita and assumed that when she was older, she'd be able to do the revival. Sadly, the revival happened but she never donned that white dress. However, she sang "Rainbow High" for me in a Playbill "Obsessed" video. Watch!

We also had a night featuring the comics on the boat; Lewis Black, Christine Pedi and Ana Gasteyer. I asked Christine Pedi to tell us what it was like what it was like doing the brilliant Forbidden Broadway parody to "Zip" renamed "Stritch" and working with the actual Elaine Stritch! She was asked to perform at the Actors Fund Benefit, Nothing Like A Dame and it was planned that Elaine Stritch would come out at the end of the number and "surprise" her. Well, Elaine called her to her dressing room before the show and told Christine that at the end of the song she'd appear next to her and back her offstage. So, Christine sang the song:
"Stritch! Nothing riles you up or makes you turn red.
Stritch! You're so deadpan people think that you're dead."