ONSTAGE & BACKSTAGE: Disaster! Ends Its Off-Broadway Run and More Memories from the Cruise


*
Last week was the final performance for Disaster! Sad face. I can't give details but it wasn't the final performance ever. Regardless, it was the end of our run at Theater at St. Luke's and right before the last two shows, Tom Farrell asked me who in the cast had never missed a show. We realized it was three people who had perfect attendance: Our stage manager Jeff Davolt, the boy who plays twins Ben and Lisa (Jonah Verdon) and our male lead (Matt Farcher). We marveled at their perfect record.
I'm not saying we tempted fate but I've never seen a more clear example: The next night at 11 PM, Matt texted us that he had no voice whatsoever. We got him an emergency appointment with an ENT for the next morning and also called his understudy, Max Crumm, to tell him to prepare. If you don't know, Max won the role of Danny on the Grease reality TV show and has been in Disaster! playing the role of the nerdy sidekick, Scott, for two months. He's also the understudy for Matt, and he's had one understudy rehearsal. He was not overjoyed when I called and told him he might have to go on for the second–to-last show. Well, Thursday came, Matt went to the doctor but didn't get better so at 7:30 PM that night, Max was on for the lead for the first time. Turns out, he was amazing. Not just, "Oh, he got through it," but more like, "He's an amazing actor with a great voice." Having an understudy on always makes the show so exciting for the people onstage, and that night was extra thrilling.
Every night last week was so exciting. We had lots of celebrity friends come see the show on Monday and Tuesday; Ana Gasteyer, Jane Krakowski, Casey Nicholaw, Adam Heller, Beth Leavel, Donna Murphy, then Max went on Thursday night and Friday had the full cast for the final show.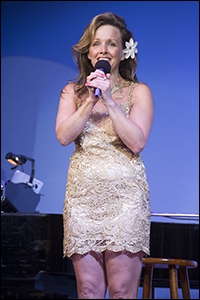 photo by Monica Simoes
I'm still so far behind in terms of Playbill cruise stories! That Tahiti vacation was jam-packed, so let me wrap it up in this column. On Wednesday Alice Ripley did a show where she sang up a storm and told tons of theatre stories. One of the stories I love was about a production of Little Fish she did in L.A. in the mid-2000's. She played opposite Chad Kimball and Gregory Jbara and they earned... wait for it... $39 a week. Alice loved doing the show but it was a little hard to make ends meet on that salary. She thought it was so cool that in a little bit of time, they were all on Broadway! Chad Kimball was playing Huey in Memphis (Tony Award for Best Musical), Greg was playing the Dad in Billy Elliot (Tony Award for Best Featured Actor) and she was staring in Next To Normal (Tony Award for Best Actress)! From $39 to Tonys! She also spoke about how when she was young she was obsessed with Evita and assumed that when she was older, she'd be able to do the revival. Sadly, the revival happened but she never donned that white dress. However, she sang "Rainbow High" for me in a Playbill "Obsessed" video. Watch!
We also had a night featuring the comics on the boat; Lewis Black, Christine Pedi and Ana Gasteyer. I asked Christine Pedi to tell us what it was like what it was like doing the brilliant Forbidden Broadway parody to "Zip" renamed "Stritch" and working with the actual Elaine Stritch! She was asked to perform at the Actors Fund Benefit, Nothing Like A Dame and it was planned that Elaine Stritch would come out at the end of the number and "surprise" her. Well, Elaine called her to her dressing room before the show and told Christine that at the end of the song she'd appear next to her and back her offstage. So, Christine sang the song:
"Stritch! Nothing riles you up or makes you turn red.
Stritch! You're so deadpan people think that you're dead."





Photo by Monica Simoes

At the end, Christine waited for Elaine to appear, and she didn't. She waited as the audience applauded and finally realized she had to start exiting. Christine started walking off the stage and right before she got offstage, Elaine appeared. They faced each other. Elaine then started to back Christine across the stage. The entire, enormous Broadway stage. And Elaine walked incredibly slowly. The audience went crazy! Because Christine's back was turned, Elaine would give her directions. Christine imitated Elaine whispering in her signature voice, "That's it. Stay straight. Watch out for the mic cord. Veer to your left. Almost there. Etc."

Ana Gasteyer spoke of a similar situation during her days on "Saturday Night Live." She used to do a hilarious Celine Dion impersonation that was peppered with her constantly saying "I am the best singer... in the world!" One day, Celine's people invited Ana to perform at Madison Square Garden... at an actual Celine Dion concert. The concept was that "My Heart Will Go On" would start playing and Ana would appear and start singing. After a little while, Celine would appear behind her and Ana would scurry off. In "Saturday Night Live" terms, that's known as a "sneaker upper," AKA imitating a celebrity and having that actual celebrity come out and bust you. Ana told us that she had to be in Celine's concert outfit which consisted of a female tuxedo (?) with a cummerbund that was extended so it came up to her chest. Attractive? You decide. The whole gimmick of the Celine character she played was her unbridled narcissim and non-stop bragging. Every time "Celine" had a guest sing, she'd cut her off, start singing and proclaim that she is "the best singer... in the world!" Apparently, though, the real Celine never quite got the joke. She told Ana, in her French Quebec accent, "Eet is so funny when you play me on TV. Because your voice..." (She then put her hands over her ears) "Your voice... eet is so 'orrible!"

Back to Christine Pedi. She and Juli decided to go snorkeling off of Tahiti and they came across a bed of sea urchins. Sea urchins can sting if you touch them. Christine was floating above them and Juli described the encounter thusly:

"Hey, Juli! My back is almost touching these things. Are these the things you're not supposed to scream!" Christine then started laughing hysterically. She had to continue floating to get past them and she'd periodically scream as she'd brush against them. Christine would start laughing again and then finally asked Juli, "Seriously. Am I going to die?"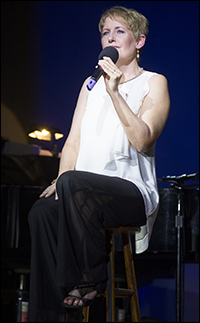 Photo by Monica Simoes

Speaking of which, James decided to go snorkeling by himself on one of the deserted islands. He said he was 100 feet from the shore and looking at beautiful fish. He decided to turn his head and look at other fish and then noticed he was being stared at... by a shark. First he thought, "Wow! A shark!" because he's so used to seeing them at aquariums. Then he realized there wasn't a glass partition separating him. So, he immediately began swimming towards the show. Apparently, you're supposed to wear flippers because they don't attract shark, but he was not. He swam back to shore frantically flapping his feet... otherwise known as "bait." He swam incredibly fast and, thankfully, wasn't eaten. We thought he outswam the shark but after looking up details on that particular type of shark we saw that it could have swum up to James in 10 seconds. So, we probably owe James life to the fact that the shark was either not hungry or on Weight Watchers.

Liz Callaway sounded amazing in her show as usual. She sang "Story Goes On" from Baby as her encore and it was so fantastic. I did an "Obsessed" with her about the original ending to that song and why it changed… watch! Because Mickey Rooney passed away this past week, Liz posted part of a TV movie she did with him when she was 19! Watch her singing from "Senior Trip" here.

Liz also joined Judy Kuhn in singing "I Know Him So Well," and it was so good! I'm going to have them on SiriusXM soon to recreate it and I'll make sure to film it. Liz talked about doing Baby and how the show was struggling at the box office. They knew the only chance they had of not closing was if they won a Tony. They also knew that they didn't have much of a chance to win anything… except, maybe, the Tony Award for Best Score. That night, she, Catherine Cox and Beth Fowler were slated to sing "I Want It All" because they were up for Best Musical. Their performance would directly follow the award for Best Score. This was it! Their chance to keep running! Liz said they were waiting to go on and, right before they entered, they heard the Tony Award for Best Score go to La Cage Aux Folles. They looked at each other and said, "Well, we're closing." And then they performed this number.

Oy! There's still more to the cruise, so I shall have to wrap it up next week! Before I go, let me remind you to come see me and Chita Rivera in New Orleans this Saturday. Peace out!

(Seth Rudetsky is the afternoon Broadway host on SiriusXM. He has played piano for over 15 Broadway shows, was Grammy-nominated for his concert CD of Hair and Emmy-nominated for being a comedy writer on "The Rosie O'Donnell Show." He has written two novels, "Broadway Nights" and "My Awesome/Awful Popularity Plan," which are also available at Audible.com. He recently launched SethTV.com, where you can contact him and view all of his videos and his sassy new reality show.)

PHOTO SPECIAL: Highlights from Playbill's Star-Studded "Broadway on the High Seas 4" Cruise Through Tahiti, Bora Bora and the South Pacific