ONSTAGE & BACKSTAGE: Good Deeds at Schmackary's and Behind-the-Scenes "Smash" Stories from Megan Hilty
It's so hot! And I ain't talking about New York City. I'm in the actual South where it's truly hot. Yes, I'm writing this from New Orleans, where everything is deep-fried, including the pollen. Holy S! I thought I'd write this column while sitting in the outside garden attached to my beautiful hotel room, but give me a minute while I pick up my laptop and run inside to the A/C.
Ah. Now then. This week was busy! On Memorial Day, I joined former Elphaba/current beltress Eden Espinosa at Schmackary's, a midtown bakery for an event called "Broadway Bakes" where various Broadway peeps manned the counter for three hours and all of our tips went to Broadway Cares/Equity Fights AIDS. Whoever raised the most money won a big basket of deliciousness. Of course, Eden and I were resentful that we were doing it on Memorial Day, one of the few days of the year when New York City clears of all people. Nonetheless, we were happy to be visited by Lilla Crawford (Annie) who joined us behind the counter. The picture on the side is the two vegetarians (Lilla and I) judging one of Schmackary's most popular cookies: maple bacon. Hmph. I also put a video on Vine of Eden and me. Watch her face at the end when I reveal what "Schmackary's" means in Yiddish. Her jaw literally dropped.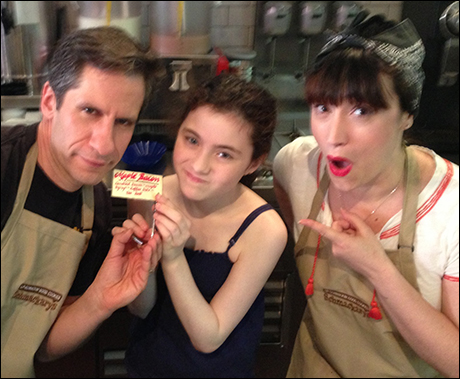 On Tuesday, I recorded "Seth Speaks" with David Friedman. David wrote "Help is on the Way," the classic song that's performed at the end of every Easter Bonnet competition. He also started the late Nancy LaMott's recording career. Years ago, he saw her in a cabaret show and asked why she didn't have an album. She told him that no one offered to produce one. He then decided that he'd produce it himself and thus was born one of my favorite CDs: "Beautiful Baby," which ends with "Help is on the Way." Here's Nancy in the Easter Bonnet Competition where the tradition first began. Listen to her voice. So beautiful. I don't know if it's a belt, mix or simply just where her voice is always placed, but I love it!

David is coming out with a double CD featuring all of his songs and it's available here: MidderMusic.com. He told us that way before he was a songwriter (and Broadway pianist/conductor) he was a classical musician. David went to a very prestigious music school and right before he left, his teacher told him, "You are the youngest person ever to graduate from here. You are also one of the most talented. But lately, I have a noticed a trashy, Tin-Pan-Alley element in your improvisation and if you're not careful…" (she paused for effect) "…you could one day find yourself playing in a Broadway pit!" She thought she had sufficiently terrified him, but instead David said he was thrilled!

The first big show he did on Broadway was Grease which was a long-running show with a band that stayed with their gig from the very beginning. Usually, on Broadway there are scenes between songs and musicians use that time to chitty-chat quietly with each other or read. When I did Grease on Broadway we had an "open pit" policy and we were allowed to exit between songs and walk around backstage. I loved it because so much of the cast hung out near the pit so I'd get a chance to catch up with my friends and then rush back to the pit when I heard a cue coming. However, one of the musicians took that freedom a step further. The bass player had an extra long cord made that attached to his instrument. David said the guy would walk out of the pit to chat and when a song came, he wouldn't rush back inside; he would just play from where he happened to be standing! That's right, wherever he was became his own personal pit.