ONSTAGE & BACKSTAGE: Inspiration From Gavin MacLeod and Terrence Mann's Audition Tales
Speaking of SiriusXM, I had the hilarious Judy Gold on "Seth Speaks." She just joined the cast of Disaster! and the cast loves her! I took a photo of everyone lined up in the wings listening to her do "Still The One" with Tom Riis Farrell who plays her husband, Maury. If you don't know, Judy is 6'2' (see the photo evidence) and recently during intermission she was asking for a different mic belt. The stage manager asked if it was too big for her and she stared and said, "Do you honestly think something is too big for me?" Good point. The character she's playing is named Shirley (based on the Shelly Winters character from "The Poseidon Adventure"), and Judy is obviously channeling a lot of her mother into the role.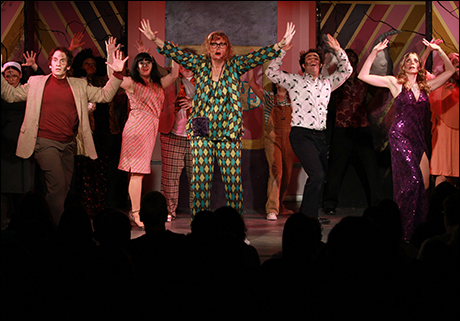 photo by Drew Geraci


If you don't know, she's constantly featuring her Mom in her stand up show. On "Seth Speaks" she told us she had a new voice message to play and whipped out her iPhone. Judy said her Mom is in the Hebrew Home For The Aged and is constantly complaining about the food. Of course, whenever Judy brings it up in front of any staff member, her Mom immediately claims she's never, ever complained about the food. Regardless, Judy played us recorded proof of one her Mother's signature messages; It was simply, "Judith. (Pause) I have nothing. (Pause) Could you bring me a hunk of cheese? (click)." Brava on the clear, concise instructions.
On "Seth's Broadway Chatterbox," I had on and offstage couple Terrence Mann and Charlotte d'Amboise. They got married in the '90's, but have been friends since the early '80's. In Gavin MacLeod's book, he talks about taking risks and being outspoken as opposed to keeping quiet in order to appear polite. For instance, when he was living in NYC, a director mentioned a Broadway show he was doing and told Gavin he was right for a certain role. The show opened, Gavin heard an actor was leaving and then he saw the director again. He wanted to remind the guy of what he said but was nervous it would appear rude to be so upfront. Finally, though, he got up his courage, approached the director about what was said months ago, and it led to an audition and Gavin's Broadway debut!
photo by Michael Le Poer Trench
Terry (as he's known) Mann has very similar stories. Back in the early '80's, he was told by a friend that he'd be right for a role in Cats. He tried to get an audition but could not. His wife (before Charlotte) was British and knew someone involved with the West End production. Through that person, Terry found out there was going to be a rehearsal coming up that Gillian Lynne (the choreographer) and some of the staff would be at. Terry flew to London (!) and, on the day of the rehearsal went to the stage door. He told the stage doorman that he was there to audition. He got to choreographer Gillian Lynne, who told him that they weren't having auditions because didn't need any new actors. He told her that he wanted to be in the American production. She considered it but then told him the pianist was at lunch. Terry told her he could accompany himself. She agreed and then made an announcement to the others around her ("Everyone! An American is going to entertain us!") and Terry sang and played Elton John's "Take Me To the Pilot."

Cut to, he was asked to come to a call back in NYC and got the role of Rum Tum Tugger! After not being able to get an audition at all! A few years later, another friend told him that he was right for the role of Javert in the upcoming Les Misérables. Yet again, Terry tried to get an audition but the casting people felt he had the wrong look for Javert and would only bring him in for Enjolras. He figured that being seen for any role was better than nothing so he went to the audition for Enjolras. However, he showed up as Javert. He wore black, slicked his hair back and instead of singing an inspiring student revolutionary song, he sang a dark, serious song. While he was doing his song, he kept one eye on the reaction of the people behind the table and noticed the writers talking to each other. He was actually able to read their lips as one whispered, "Enjolras?" and shook his head. Then the same man whispered, "Javert!" and everyone nodded. Terry got called back and was waiting to hear while touring with Rags.