ONSTAGE & BACKSTAGE: More Midtown March Medley Madness, Plus Megan Hilty



Photo by Paul Castree
*

Hello from my flight from El Paso (through Chicago) to NYC! I was just at New Mexico State University's brand new Center for the Arts where I did a master class and two performances of Seth's Big Fat Broadway (AKA Deconstructing Broadway, AKA What I've Been Doing in my Living Room for Friends since 1979). The Las Cruces community is so great and I had a ton of junior high/high school kids at my first show. They were an amazing audience. They actually got all my jokes and references! They laughed so hard at my Bea Arthur deconstruction, which is from the late '70's! After the show, I realized that would have been like me seeing a comedian when I was in junior high and loving his deconstruction of Mary Pickford. Anyhoo, I'm hauling out my show again in Naples, FL, next Wednesday.

However, before I leave I have more performances of The Daring Duo in the Midtown March Medley. Kerry Butler tweeted a photo of her small Off-Broadway dressing room and wrote that there's no room for modesty at her show. Well, let me add that there's no room period at my show! Look at the photo I tweeted to trump her cramped space. Yay! We won!...a contest that's completely un-fun to win.

At this point, the three plays of the Medley have all opened, and the last one to start performances is my comedy act with Kristine Zbornik. We filmed some of the rehearsal in which we worked on "Show Tune," the hi-larious song Jason Robert Brown wrote for her years ago — about her being comforted by Broadway music. My fave lyric: "Oh, yes the grime's still here…the crime's still here…but all I need's a verse or two of 'I'm Still Here'!" Watch it here.

Unbroken Circle was the first to open and the feedback has been so amazing! We were too nervous to have reviewers come, since it's the first outing ever of the show, but check out this email from an editor at Random House: "We were all just thrilled with the play and the production. The performances were all so terrific. The woman who played Ruby was riveting, her emotional complexity was present in every line. Eve Plumb was terrific, and I was worried that she'd just be a stunt-casting coup. But the level of naturalness was awesome…especially in that small space. I'm a big fan of Anika Larsen, and seeing her in this role, which was so different from Xanadu and Avenue Q, was a pleasure. James, you did an amazing job of the man whose life has been stunted by his past…and I loved how your character hid your hinted-at issues so beautifully, until the family began to unravel and his insecurities were revealed. But even stronger than the performances was the writing. We all commented on how real the dialogue was, and how believable the characters were as they transitioned from 'normalcy' to 'reality.' Thank you for a really enjoyable evening of theater…on all fronts."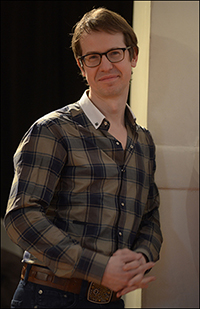 photo by Monica Simoes
Now, let me tell you about The Daring Duo. This is the comedy caper I wrote about two classical musicians (David Turner and I) who agree to do a concert in the home of a gangster. Soon, David and I are on the run and forced to solve a series of classical music clues a la "The Da Vinci Code." I scheduled rehearsals to begin right after my Australian trip and assumed two weeks would be ample time to get the show into great shape because we put up Disaster! in the same amount of time and that was a musical. James told me how much rehearsal he was planning for his play (Unbroken Circle) and I kept thinking/muttering/commenting-out-loud about how neurotic he was and how he was over-scheduling. Well, cut to a week into Daring Duo rehearsal, I began to think I was really falling behind. I had a total panic attack. For reals! On my birthday(Feb. 28) I woke up in the middle of the night and could not sleep. It was like being in a runaway car that was heading for a brick wall. The brick wall being me not knowing any lines. I told James that I had made a big, fat mistake and I wanted to cancel the first few performances so the cast (AKA me) would have time to memorize the script. He told me that he thought we could do it… if we added some more rehearsal time (I had only scheduled around four hours a day, hubris-style). I added some hours each day and didn't tell the cast I wanted to postpone because I didn't want them to think it was a possibility but I was strongly considering it. Well, the opening got closer and closer and, even though I kept thinking about it, I didn't cancel. Suddenly, it was the day of the show and it was actually happening.