ONSTAGE & BACKSTAGE: More Midtown March Medley Madness, Plus Megan Hilty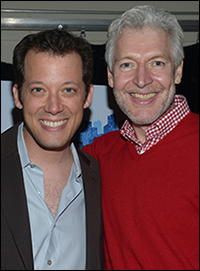 Photo by Monica Simoes

Once David and I go onstage, we pretty much never leave til the end of the show. Well, cut to: it went great. It was one of those "we've never run this without stopping, how are we going to get through it?" shows that all came together. It was very inspiring to me in terms of the ol' "Don't Give Up" motto that's been bandied about forever. I'm so happy I didn't postpone because once we did the show once, we knew we could get through it and then it was easy! I'm also so happy because the show didn't need to be revised after we opened. We never had any invited dress before the first performance so I didn't know if we'd all be laying non-stop eggs in front of a crowd. It was so thrilling that all of the jokes worked so well. AND the scary/shocking parts of the shows got gasps (and/or we had several well-placed asthmatics in the audience. Either way, brava!)

Medley's Art and Science also opened this week but I was in New Mexico on opening night so I couldn't see it. On Sunday I had a 5 PM and a 9 PM showing of The Daring Duo and I told James I would see the 7 PM performance of Art and Science. Of course, I was dreading it because I wanted to rest between shows and act out with food. Regardless, I saw his show and I'm so so happy I did. John Tartaglia and Tony Sheldon were so effing good. And, I reminded myself of Betty Buckley while sitting in the audience. Not the high belt and the Tony Award part, but I remembered the time she saw Wicked. She told me that during the show she was thinking, "How does she do that? Sing so much and run around and change costumes?" I was like, "Betty! You've done it a million times!" but it's easy to understand how you do it when you're doing it…but watching people perform in a show makes you appreciate the magic of it. So as I watching John and Tony I thought, "How did they learn this whole show in two weeks?," forgetting that I had just done the same thing. Beyond being impressed with their acting/comedy/line-memorization, I thought the show was so beautiful. So funny and so moving. I had only read the script. This was the first time I had ever seen it fully staged. The audience and I were weeping at the end. I'm so proud of James. OK…I have The Daring Duo tonight at 8 PM and tomorrow at 2 PM and 7 PM, Unbroken Circle is Wednesday at 7 PM and Art and Science's next show is Thursday at 8 PM. Tix are only $18 for all shows. For into/tix/photos/videos go to MidtownMarchMedley.com.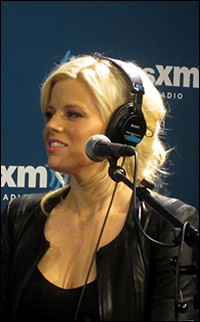 photo by Robb Johnston
Megan Hilty was my guest on SiriusXM's "Seth Speaks," and, I'm happy to say, her career is skyrocketing! First of all, she had been booked to be the special guest in Seth McFarlane's Carnegie Hall concert but then he got the Oscars gig. Instead of finding someone to replace him and keeping Megan as the special guest, the asked her to become the headliner! At Carnegie Hall! How amazing is that! Also, she just finished filming the second season of "Smash" and her CD just "dropped" as the kids say. I asked her about playing Glinda in Wicked and any onstage mishaps. She told me that during "Popular" she decided to add a very deep squat. At the same time, she blew her bangs out of her eyes. Well, when she blew out of her mouth to clear her bangs, the air aimed upwards. Right into her microphone. In other words, the sound blared out like a car horn. Add that particular sound to her deep, deep squat and you can imagine what the audience thought it looked/sounded like. Megan did what any pretty girl should and immediately glared at Elphaba and said, "Excuse you!" Brava diversionary technique!
All right, I'm off to therapy for the first time in three weeks. I need it! (Maybe she'll run lines with me?) Peace out, Playbill!
(Seth Rudetsky is the afternoon Broadway host on SiriusXM. He has played piano for over 15 Broadway shows, was Grammy-nominated for his concert CD of Hair and Emmy-nominated for being a comedy writer on "The Rosie O'Donnell Show." He has written two novels, "Broadway Nights" and "My Awesome/Awful Popularity Plan," which are also available at Audible.com. He recently launched SethTV.com, where you can contact him and view all of his videos and his sassy new reality show.)