ONSTAGE & BACKSTAGE: No Crying Over Spilled Wine (or Spilled Blood?!) After Lend Me a Tenor
I also saw Forbidden Broadway at the Menier Chocolate Factory which is about to transfer to the West End (and bring in the brilliant Christina Bianco from New York). One of the stars is Damian Humbley, whom I first saw when he played Charlie in the West End's Merrily We Roll Along (for which he won the Olivier). He was great in Forbidden and I chatted with him after the show. He's such a phenomenal singer but he told me when he first auditioned he knew nothing. He was 16 and going in for the Australian company of Miss Saigon. He came with his own accompaniment pre-recorded (!) and played it while he sang. They had asked people to prepare two songs but after his first they immediately gave him the "thank you" and he left. Instead of being devastated because he wasn't asked to sing again, he was excited. Why? Because he was so naïve, he thought "Wow! I was so good they only needed to hear one song!" Amazing version of turning lemons into lemonade.
I also asked him about onstage mishaps and he told me about the time he was doing the musical version of Lend Me A Tenor. He played the role originated by Victor Garber in the Broadway play and at one point he was supposed to catch a bottle that was thrown to him. The cork had disintegrated so the liquid spilled out when it was thrown and Damian dropped it. And it wasn't a prop bottle. It was made of glass! He never left the stage for the rest of the act and had to continue while picking glass out of his hands. When he got offstage, he saw that his shirt was drenched with blood because his triceps got gashed as well! The whole set was lavender and gold, but that night there were big spots of red because of his blood! He sent me a pic of his bloody arm. Look!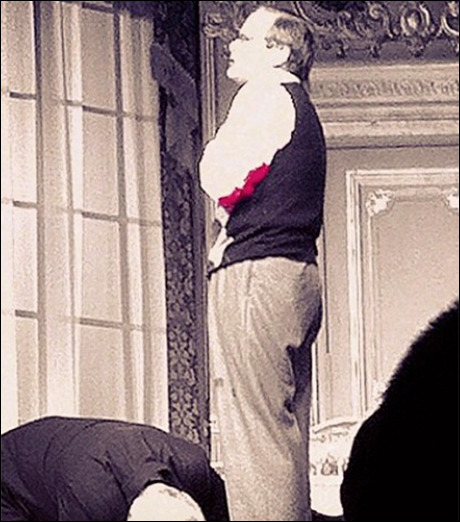 All right, I've still got more days in London so in next week's column I'll write about seeing Shakespeare In Love, the opening night of Dogfight and my show! Speaking of my show, don't forget I've got a big benefit coming up Aug. 24 that features Broadway stars like Christine Ebersole, Mario Cantone, Sierra Boggess and many more singing a song from the role that put them on the map in high school! Get tix here and peace out!
(Seth Rudetsky is the afternoon Broadway host on SiriusXM. He has played piano for over 15 Broadway shows, was Grammy-nominated for his concert CD of Hair and Emmy-nominated for being a comedy writer on "The Rosie O'Donnell Show." He has written two novels, "Broadway Nights" and "My Awesome/Awful Popularity Plan," which are also available at Audible.com. He recently launched SethTV.com, where you can contact him and view all of his videos and his sassy new reality show.)