ONSTAGE & BACKSTAGE: Revisiting My Past With Ralph Macchio and Avoiding Disaster! on Opening Night



Photo by Monica Simoes
My column usually comes out on Monday, but I could not get it together in time. Why? Because Disaster! officially opened on Monday and I was overwhelmed.
I will get to that, but first, the week that happened before. I had Ralph Macchio on "Seth Speaks," my SiriusXM radio talk show, and I was in an anxiety panic because I had a crazy, obsessed crush on him when I saw in "The Outsiders" back in the early '80's. I knew he's now over 50 and wouldn't look anything like I remembered, but I assumed his eyes would remain the same and I could fantasize he was the same boy I gazed at from the movie theatre audience. Well, his eyes looked the same as did his hair. As did every other aspect of him. What the...?! How the...?!
As soon as he walked in, I had to resist the urge to card him. Is he even 18 yet? He's completely aware of his lack of aging and he said he's dreading the day when his children age past him. After I got over the shock of interviewing a living Dorian Gray, we talked about his theatre career and the time he starred in Cuba and His Teddy Bear with Robert De Niro. De Niro had a much slower process than Ralph and would take big pauses between his lines trying to think of the next one. Ralph would always "help out" by feeding him his next line, which De Niro was decidedly not fond of. On a side note, I must say that sometimes feeding is necessary.
Priscilla Lopez (Broadway's original Morales from A Chorus Line who incidentally came to Disaster's opening night) was starring in A Day In Hollywood/A Night In The Ukraine and took a week's vacation. When she got back, she was onstage doing the fabulous Jerry Herman song called "The Best In the World." Every chorus begins with "Papa said...you're the best! You're the best in the world!" She told me she was refreshed from her vacation but apparently not quite in the performing mode she needed to be in. She got to the chorus and sang "Papa said…" Suddenly those three dots after "Papa said…" turned into 3,000 dots. Longest pause ever. She literally couldn't remember the lyrics. After a gaping silence, someone offstage finally stage whispered "You're the best!". Phew. Perhaps Ralph Macchio was an ASM back in those days? If you've never heard that amazing song, watch my deconstruction!
I also had the hilarious Jackie Hoffman and Mary Testa on my "Seth's Broadway Chatterbox." I asked Jackie about her Jewish family, and it was like she was describing my family. She said that when they hear the phone they pick it up in a panicked state and immediately ask, "Who died?" Mary talked about her career, which included being the swing for Barnum (although she couldn't do any circus tricks) and being the stand-by for Liza Minnelli during The Rink. If you haven't heard about these experiences, watch this Obsessed.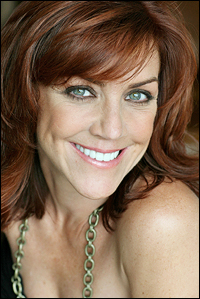 Photo by Robert Mannis

I had Mary and Jackie on the "Chatterbox" because I wanted to promote the show they did that weekend at 54 Below with Kristine Zbornik and Christine Pedi. It was hi-larious...especially Kristine's opening number. She sang, "This is my opening... my opening number!" Then as the song went on, she would sing, "And if you don't like it, you can kiss my opening... my opening number!" Then Kristine laid on the piano and did a "dance" where she twirled her legs in the air. Her legs were sticking straight up and right after she asked, "Hey, you in the back! Did you see my opening? My opening number!" So great! They also did a segment where people asked questions from the audience. The ladies were asked if they would do onstage nudity. Zbornik said, "I don't have a problem being nude in front of a large group of people." Then she added, "Only when it's with one other person."

Right before the 54 Below show, James and I went to Hurley's for Andrea McArdle's surprise 50th(!) birthday party. A few nights before, she saw Disaster! and I knew about the upcoming surprise party, but I was wondering what she thought was doing Saturday night. I asked her what her plans were and she told me she was having dinner with Tommy Tune. Afterwards, she said she was having dessert with Carol Channing. I felt so anxious trying to keep the party a secret that I just murmured, "Sounds fun" and faded out. When she arrived at the party, we all shouted "Surprise" and I immediately went up to her and told I had known about the party and that's why I had acted weird that other night when she told me her plans. She laughed and said, "Oh! I just thought 'Bitch is jealous.'" I love that she thought of me as the name "bitch." The party had some amazing cake pops made by Mandiecakes that looked like Little Orphan Annie. When Andrea held one up she said, "We got Annie!" Brava "Annie" film reference! She then said, "These are better than a p***s pop." Brava X-rated film reference?

For the opening of Disaster!, we decided to get the cast gift bags with 70's products. We got LIFE magazines from 1972, cans of TaB and 1970's record albums that featured songs from the Disaster score, and then we went to an amazing store on the Lower East Side called "Economy Candy." We wound up getting a bunch of delish vintage candy from the 70's: Candy cigarettes, rings with a big piece of candy as the stone, Fruit Stripe gum, Pop Rocks and Zotz. Speaking of Zotz, Juli didn't know what they did, so when they started to foam in her mouth she panicked and thought she was having an allergic reaction.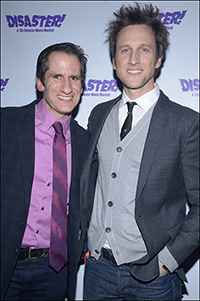 Photo by Monica Simoes

When we first performed Disaster! back in 2011, it was for an "Only Make Believe" benefit. "Only Make Believe" is an organization run by Dena Hammerstein that brings theatre to hospitalized children. I've done their benefit every year, and this year it happened to fall on the same night as the opening of Disaster! But I remembered a benefit I did years ago and decided to steal a page from Sutton Foster's playbook.

Back in 2002, I put together a benefit of Funny Girl for the Actors Fund. A few weeks before the show, Thoroughly Modern Millie added a Monday show on the exact same date! I didn't know what to do because Sutton was supposed to sing "I'm The Greatest Star" in our show! Well, Funny Girl was slated for 7:30 and Millie was at 8, so Sutton got in her wig and mic, did the opening number for Funny Girl and then when she finished her song, she exited up the aisle, out of the theatre and ran over to the Millie theatre and did her show. So, because Only Make Believe began at 7 and Disaster! at 7:30, I knew we could do both. Haven Burton, Jonah Verdon and I got into costume and at 6:45, ran to the Bernard Jacobs Theatre (Where Once is playing), did the press line and went backstage. Ian McKellen came onto the Once set and introduced us. We came out, performed the "I Am Woman" segment from the show, hightailed offstage and ran back to the theatre. Ten minutes later, we were onstage! So perfect for my A.D.D.: Crazy overbooking, last-minute panic and trying to be in two places at once. And by "once" I mean Once. Pun humor! Without an actual pun... or humor.

Opening night for Disaster! was star-studded! The guests included Charles Busch, Jan Maxwell, Christine Ebersole, Charlotte d'Amboise, Capathia Jenkins, Aisha de Haas, Rachel Bay Jones, Lillias White, Julia Murney, Brian d'Arcy James, Andrew Lippa, Jerry Mitchell, Rory O'Malley, Brenda Braxton, Priscilla Lopez, Victor Garber, Daniel Reichard, Laura Benanti, Mo Rocca, Jennifer Cody, Jeff Richmond and Tina Fey. I can actually look at the audience from backstage during the show and it was so fun to see my friends laughing up a storm. What's crazy is that there were people there who knew the show, yet they acted like it was their first time seeing it. Anika Larsen (who's starring in Beautiful on Broadway) had done previous productions and afterwards she said she came prepared to fake laugh for two hours. She told us that she prepared her diaphragm for non-stop phony chuckles but wound up laughing up a storm for real! My favorite after-show comment was posted by Ann Harada on her Facebook wall; her son Elvis told her, "This is the best show I have ever seen in my life." I'll take it!

OK! I have Disaster! this week (get tix at DisasterMusical.com) and then I fly to Tampa this weekend for two deconstructing Broadway shows at the Straz Center! Get tix here and peace out!

(Seth Rudetsky is the afternoon Broadway host on SiriusXM. He has played piano for over 15 Broadway shows, was Grammy-nominated for his concert CD of Hair and Emmy-nominated for being a comedy writer on "The Rosie O'Donnell Show." He has written two novels, "Broadway Nights" and "My Awesome/Awful Popularity Plan," which are also available at Audible.com. He recently launched SethTV.com, where you can contact him and view all of his videos and his sassy new reality show.)