ONSTAGE & BACKSTAGE: Seth Chats With Len Cariou, Joanna Gleason and "Into the Woods" Director Rob Marshall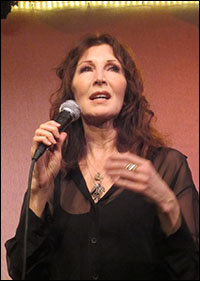 Photo by Robb Johnston

Speaking of Into the Woods, I had the original Baker's Wife, Joanna Gleason, on the Chatterbox a few weeks ago, and she was so funny! She talked about doing theatre in high school and how her teacher told her, "You're a character actress" and she immediately thought, "Code for 'not pretty'" (hilarious). He corrected her and said what he meant was she would play all the pretty girl parts and then keep on going! He ended by telling her to call him when she's 60. Joanna then said, "So I called him… I mean, I will call him…" then she faded out. She also told such a great story about the Tony Awards; when she was a kid, she watched Joel Grey win the Tony for Cabaret and as he came bounding down the aisle, she said out loud (to no one in particular), "I wanna be there." Cut to the year she was nominated for Into the Woods she was doing the Tony luncheons and told Joel Grey the story.

On the night of the Tony Awards, she remembered what Frank Langella had warned her about: "Whatever you do, don't get up 'til you're certain you were called. You will hear your name called in your head because you've thought about it so many times, so do not move until you know for sure." Well, she definitely won and who announced it but Bernadette Peters and Joel Grey! Later on she got the Tony envelope that had her name in it and Joel handwrote on the outside "full circle." Isn't that great? PS, the whole time she was giving her Tony speech she said that she was thinking, "I wish I had worn a different bra." Whenever I win an award, that's exactly what I think. PS the entire Chatterbox is available on SethTV.com. So much fun!

Back to Rob Marshall. He confirmed that Meryl Streep will be the Witch, and it reminded me of the last revival when Billy Porter (now starring in Kinky Boots) went in for the Baker. At the end of his audition, director/librettist James Lapine told him that they were considering having a male witch! He asked Billy, "Would you mind going home and learning the witch's big song, 'The Last Midnight'?" Billy turned and said, "Learn it? I know it! Hit it!" and then launched into the song in the original key! He put it on his CD "On The Corner of Broadway and Soul," and it sounds fabulous. Hmm… I'm not saying Rob Marshall needs to listen to it, but if Meryl hasn't signed her contract yet…

After Chita, we had a Sweeney Todd segment that started with Liz Callaway singing a beautiful rendition of "Not While I'm Around." Barbra Streisand recorded that song and Liz was Barbra's stand-in during Barbra's concert tour. For real! Liz would travel to the city where Barbra was about to sing, and she'd go through the entire show for sound check. She'd also do the dialogue for the concert as well. Liz said that she committed so much to the patter that after a while she began to feel that she herself actually directed and starred in "Yentl."

Next came Len Cariou, who told everyone that Marty came to a run-through of Sweeney Todd to see if he wanted to invest and Marty immediately put in the money. He told Len he felt he had no choice because after watching the run-through he was scared of what Len would do if he didn't invest (ye olde razor blade)! Then Len performed not only "There Was a Barber and His Wife," but also "Pretty Women." The audience flipped out hearing the original Sweeney Todd sing those classics (in the original key)!