ONSTAGE & BACKSTAGE: Seth Chats With Len Cariou, Joanna Gleason and "Into the Woods" Director Rob Marshall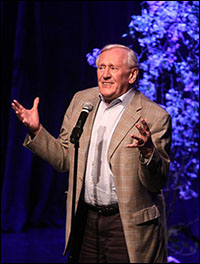 Photo by Joseph Marzullo/WENN
Afterwards I told everyone a story I heard from Len's voice teacher. Back in the 70's, Len was studying with Paul Gavert (who also taught lots of Broadway stars like Betty Buckley) and Paul told me that during previews Hal Prince went to the sound designer and told him to lower Len's body mic because he was overpowering the other singers. The designer stared and told him that Len was the only actor not wearing a body mic! Werk! After Len, the great Victor Garber came to the stage and performed "Johanna" (also in the original key). He sounded just like the record, and after he told me it was so weird waiting to go on because right after "Pretty Women" he (as Antony) would run onstage and ruin Sweeney's attempt to murder Judge Turpin. So, when he was waiting in the wings on Monday while Len sang "Pretty Women," he felt like he was in a 33-year-old time warp!
The concert also had Timatha Kasten sassing "I Want to Go To Hollywood," Jack Noseworthy reprising his original role in Sweet Smell of Success and Chita closing the whole show with "The Best of Times" backed up by The Accidentals. I loved playing for Marin Mazzie singing "Never" from On The Twentieth Century, which we did when I produced the big Actors Fund concert starring her and Doug Sills. She still got it! Also, Dee Hoty came onstage and sang "No Man Left For Me," but told the audience she could only do the number with her original staging so she immediately hoisted herself on my piano. It was so cool for me to play that number for her and see Tommy Tune, the original director/choreographer, in the audience. Tommy was sitting at our table and dishing the dirt with James. I won't mention names, but he said that when he was doing a certain musical, one of the bigwigs involved in the show wanted to have an actor fired because, back in college, the actor slept with the wife of the bigwig! Marty Richards intervened and convinced the bigwig to let the actor keep the gig. That kind of drama is so "Smash" but I guess it really happens!
In my last column, I mentioned that the Audible.com version of My Awesome/Awful Popularity Plan" just got nominated for an Audie Award, but I'm obsessed with this crazy promo that's on Youtube because it's entirely read by an automated voice not unlike the GPS in your car, and the voice is also fitted with a British accent. Why would they think a robot from England would make people by the audio book? Listen!
As for this summer, we just announced all the great Broadway people performing with me at the Art House! Audra McDonald, Joanna Gleason, Christine Ebersole, Sutton Foster, Patti LuPone and Megan Hilty! Info at ptownarthouse.com. And, speaking of Audra McDonald and Megan Hilty (who plays Becky on the audio version of "My Awesome Awful Popularity Plan"), they're going to join me in New Orleans for the two last concerts of the Broadway series down there. Info at broadwaynola.com. I'm signing off now to take a bike ride with Juli, but if you're in the Midwest, get tix to see me this Thursday and Friday at the Marcus Center in Milwaukee! Peace out!
(Seth Rudetsky is the afternoon Broadway host on SiriusXM. He has played piano for over 15 Broadway shows, was Grammy-nominated for his concert CD of Hair and Emmy-nominated for being a comedy writer on "The Rosie O'Donnell Show." He has written two novels, "Broadway Nights" and "My Awesome/Awful Popularity Plan," which are also available at Audible.com. He recently launched SethTV.com, where you can contact him and view all of his videos and his sassy new reality show.)