ONSTAGE & BACKSTAGE: Seth Gets "Smash"-ed; Audra McDonald and Will Swenson Get Hitched


*

This week started with me filming "Smash"!

First, I was so happy it was being filmed right here in Manhattan instead of Astoria, Queens. I'm notoriously lazy and hate traveling out of my neighborhood for anything. Years ago, my friend Traci Lyn invited me to her wedding in Texas, and I told her I'd only go if it were held in my actual apartment building on a Wednesday between shows. Anyhoo, the episode takes place at the opening of Liaisons, the musical version of Les Liaisons Dangereuses. I got the script on Thursday and memorized my lines in the same amount of time it took to speak them: 10 seconds.

When I got to the set, it was a combination of treated like a guest star (here's your personal camper!) and like a glorified extra (bring your own clothes). The camper (they don't call them trailers) was parked on Broadway right outside the Letterman theatre. When I walked up, I saw the name "Seth" on the door. The PA who greeted me told me that she had first written my character name on the door, which she didn't realize was also my actual name. Apparently, people walking down the street recognized it, and she decided to get rid of the "Rudetsky," obviously to prevent a crowd forming. PS, I looked up the definition of crowd, and it says "a large group of people"; I say two to three people is large. My camper was great with a TV, sound system and a mystifying bathroom. I say mystifying because I drank a lot of iced coffee and used the toilet but then had no idea how to flush it. I spent an inordinate amount of time walking around the bathroom thinking that various light switches would flush the toilet. Finally, I saw there was a foot pump underneath (!) that flushed it.

Anyhoo, since the episode was about the opening of Liaisons, it was filmed at the Broadway Theatre, which is empty since Sister Act closed. I had heard I was filming the scene with someone name "Cat," and I thought it was Cat Deely from "So You Think You Can Dance," but turns out it's the nickname for Katharine McPhee! Who knew? I guess it's spelled "Kat." I went over to the theatre and when I got there, I was delighted to see that Casey Nicholaw was the director! I met Casey in 1986 (!) when I was a 19-year-old music intern at The Equity Library Theater, and he was in the chorus. Since I was playing myself, I asked if I could make the lines more in my style. He said yes, and I made some changes including turning "Can we talk off the record?" into "Can you give me some inside scoop?" as well as shoe-horning in the word "a-mazhing." Yes, that old chestnut. Not since Carol Burnett's Tarzan yell. The other actor in the scene was Christian Borle, who I've known forever, so I was very relaxed when we rehearsed. We ran the lines and went to do hair and makeup and to get into our costumes… or more accurately my own clothes. The really fun part was when the PA asked me what I wanted for breakfast, and I was able to give her an order for the on-set chef! Mmm…delicious! Well, I'm on a diet, so let's just say, mmm…egg whites. After a half hour, the PA told me they were ready to film, and when we walked back to the theatre, there were a ton of extras dressed in their opening-night finery. I stood in the lobby of the Broadway Theatre, which was glammed up to look like a big Broadway opening and saw a pile of souvenir programs for Liaisons. The cover photo had the cast (including Sean Hayes and Megan Hilty) in full period hair and make-up, and I was excited to open it and read the mock bios. However, once I turned past the amazing cover photo, I saw that the inside stayed what it originally was: a full issue of Us! TV trickery! I had my mic put on, got powdered down a little, and we started to film the scene. Suddenly, I was nervous! For the first few takes, my body was having its signature physical reaction: left leg shaking. Hopefully, the final version won't look like I'm nervous but simply that I'm going through a severe drug detox.

The middle of the week involved a fun Seth Speaks with Andrea Martin, Kathie Lee Gifford and Michael Urie. Kathie Lee talked about her upcoming show Scandalous, which is in tech right now. It's a musical about Aimee Semple McPherson, who was an evangelist but had a lot of scandal attached to her: three marriages and a (probable) fake kidnapping! It originally starred Christine Ebersole in the first reading, but she had to drop out when she got another gig. Kathie Lee didn't know who to replace her with. The late producer Pierre Cosette was visiting her and when he heard the music, he recommended Carolee Carmello. Kathie Lee didn't know her work, but once she saw her, she knew Carolee was perfect, and she's had the part ever since. If you've never seen Carolee, watch this amazing Obsessed video where Carolee adds an extra high note to her role in Mamma Mia!

Andrea Martin was there to promote Gilda's Club for which she's done a lot of fundraisers. Glida's Club is a great organization that helps not only people with cancer but any of their friends and family. James and Juli got so much help there when James' mom had cancer, and I highly recommend it for their programs, chat groups or to simply stop by and relax in their library. Go to GildasClub.com for tons of info. Andrea and I also talked about her upcoming 54 Below show Tuesday, Wednesday and Thursday night at 7 PM. It is funny! Here's Andrea and I doing an Obsessed video.

Tickets at www.ticketweb.com/snl/Search.action?query=andrea+martin

Finally, Michael Urie came on to promote his new TV show called "Partners," which was created by the two guys who created "Will and Grace." We chatted Broadway, and he mentioned that when Bernadette Peters was a guest star on "Ugly Betty" (I'm sure she wasn't asked to bring her own outfit), Michael racked his brains trying to figure out a way to talk to her. Finally, he approached and told her he was thinking of getting a dog, which, he informed us, was a complete lie. The next day, however, she showed up with two dogs so he could choose which one he wanted! Busted! He picked one he named "Sprouts," and now he travels with him back and forth from L.A.! I love that Bernadette took his (faked) interest in getting a dog and took it 1,000 steps further by bringing two actual doggies to the set! He had no choice but to adopt one. In improv terms, she "Yes and'd" him to the 10th power.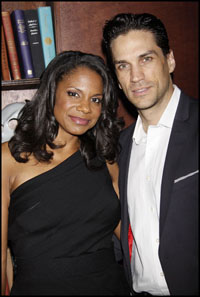 Photo by Joseph Marzullo/WENN

On Saturday I hiked it upstate to Audra McDonald and Will Swenson's house for their wedding. They hired a bus, and we wound up sitting next to Audra's sister Alison, who I've known for years, but I've never heard sing. Well, I happened to watch the preview reel for a really fun TV show she wrote (and just sold) and, turns out, she and Audra have such a similar voice (and face). It's cra-za-zy. Watch!

The wedding was outside, and Audra kept sending Facebook messages to the invitees warning us that there was tons of mud. Of course, I went into a panic and opted for dark jeans and black boots. Cut to, her backyard was dry as a bone, and we decided her "dress for mud" emails were simply so we'd all look horrible and she'd look stunning. Her version of a "dress for lots of mud" outfit was a stunning white dress. When I confronted her with my theory, she claimed that the backyard had been very muddy and that certain areas still were. She then pointed out a one-inch patch of moist dirt. When I asked her why she was allowed to look gorgeous and I was in seven-year-old boots, she lifted up her dress to reveal her shoes, which were indeed rickety-rackety mules. Regardless, the ceremony was beautiful, and she and Will read their own vows which were so moving and talked about their love and their promise of loving each other's children. Speaking of children, Will's sons (Bridger and Sawyer) and Audra's daughter (Zoe) sang an amazing version of "All You Need Is Love" with Zoe soloing on the alto sax! Then four friends who were in Hair (with Will) did a gorgeous arrangement of two folk songs, and I immediately booked them to do it on Seth Speaks. Afterwards, we all went to an outdoor tent for delish food. Andy Gale made a great toast and at one point asked, "Does anybody remember the film 'The Best Years Of Our Lives'?" I thought, "Boy…that's a really old film," and right at the moment I heard someone say, "I do!" Not surprisingly, it was Zoe Caldwell (age 79).

Speaking of Broadway stars, I saw Lonny Price before the meal, and he told us the wedding cake was delicious! How did he know considering the meal hadn't yet been served? Well, turns out the so-called wedding cake was created by Zac Young, a "Top Chef Desserts" winner and was, in actuality, an enormous structure of donuts. Lonny thought they were put out for noshing before the ceremony and grabbed one as soon as he arrived. It wasn't until after he was halfway through scarfing one down that someone told him he was eating the first slice of wedding cake. Lonny graciously re-created his devastating faux pas for a photo. Speaking of Lonny, he gave a great toast and joked that Audra had broken up with him in order to marry Will. He pointed to himself and then to Will (who's from Utah) and said, "Well…she could have had Fiddler on the Roof but instead she chose Book of Mormon."

If you're in NYC tonight, come up to Barnes and Noble and East 86th street to see me interview Betty Buckley, who'll be performing songs from her new CD "Ah Men!" Details here. Peace out!

(Seth Rudetsky is the afternoon Broadway host on SiriusXM. He has played piano for over 15 Broadway shows, was Grammy-nominated for his concert CD of Hair and Emmy-nominated for being a comedy writer on "The Rosie O'Donnell Show." He has written two novels, "Broadway Nights" and "My Awesome/Awful Popularity Plan," which are also available at Audible.com. He recently launched SethTV.com, where you can contact him and view all of his videos and his sassy new reality show.)