ONSTAGE & BACKSTAGE: Shields & Yarnell, Ann Hampton Callaway & Barbra, Michael Cerveris & Tommy


*
Wah! I'm on the flight home from Provincetown. This weekend was my last performance until New Year's Eve. James and I came up for the weekend with Juli to celebrate Juli's 12th birthday. We stayed at the lovely Grand View Inn, which was great because it had a giant freezer where we kept Juli's Ben and Jerry's ice cream cake. At the end of my show (where I deconstructed 1970s variety shows) the whole audience sang "Happy Birthday" and we served them ice cream cake and an enormous sheet cake, too. I recalled spending my 12th birthday at a depressing bowling party and was mildly resentful of Juli the entire time. Speaking of '70s variety shows, on Saturday afternoon a man came over to me and asked me what Shields and Yarnell clip I was planning on using in the show. I told him it was one from "The Sonny and Cher Show," where they're dressed up as Sonny and Cher. He then revealed that he was the director/choreographer for the "Shields and Yarnell Variety Show"! How arbitrary is that? He just happened to be in Provincetown last weekend. Do you remember Shields and Yarnell? They did everything in full mime. As soon as he told me who he was I suppressed my urge to mime serving him a cup of coffee and I assume he suppressed his urge to mime taking it from me. I then suppressed my urge to mime "running out of batteries" and I assume he suppressed his urge to wind up the pretend crank on my back. And now I'm hoping you're suppressing your urge to click to a new website due to my unfunniness.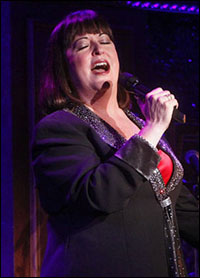 photo by Joseph Marzullo/WENN

On "Seth Speaks," I had the fabulous Ann Hampton Callaway who's performing her all-Barbra show at 54 Below and then touring it everywhere. She loves Barbra like I do, but unlike me she's actually written for her! Barbra heard some of Ann's songs and loved her lyric writing. Through her "people," Barbra asked Ann to put lyrics to a song that someone else had written the music for. Ann decided to write what she thought Barbra was feeling toward her then-fiancé James Brolin. Barbra loved the lyrics and asked Ann to make a recording of the piano part because she was having a "gathering" in a few days. Turns out, Barbra wanted a recording of the piano track so she could sing along with it. Why? Because the "gathering" she was having was actually her wedding! That's right…it just worked out that Ann happened to write a theme a song about Barbra and James Brolin and then happened to finish it two days before their wedding. Barbra told her later, "It's lucky you wound up singing it in my key!" Here it is, on youtube. And if you don't realize my obsessed with Barbra, watch this youtube clip video.

I also interviewed Bob Fass on "Seth Speaks." Bob is a fascinating guy who's the focus of the new documentary "Radio Unnameable," playing at Film Forum in Manhattan. Back in the early '60s, he asked WBAI if he could have a radio show that started at midnight and lasted through the night. They told him that there was nothing on TV or radio during those times because nobody was awake. He told them that there is actually a whole bunch of people all around the city doing the night shift! They gave him a show (which lasted for 40 years!). The documentary features actual recordings from his shows because he saved them all. And they're really amazing. There's one with his buddy Bob Dylan (!), who came on the show and someone called in to say, "I love your songs…but I wish your voice was a little better." He had Arlo Guthrie come on and debut his new song called…"Alice's Restaurant"! He was the predecessor of so many radio shows (including mine) because he didn't want his show to have any particular style. He played whatever music he wanted. He was the first to have live phone calls from people. Plus, he didn't have a call screener. He just answered the phone. One of the calls was from a man who wanted to commit suicide. As they spoke, Bob found out the guy had already taken a ton of pills and was in the process of falling asleep. This happened in the days when tracing a phone call took hours and the tracing itself could only pinpoint a certain area of town. Bob kept the guy on the phone the whole time and after a few hours, the guy fell asleep. You can actually hear him deep breathing on the air. Bob kept yelling his name to wake him up but the sleep was drugged so he couldn't be awakened. Finally, the call was traced but there was no way to know exactly where the guy lived, so Bob put a record on the radio at a crazily high volume so it'd heard through the guy's apartment door! The police were then able to find him, the man was saved and he wound up getting a job writing sexy letters for Penthouse. I was shocked! Not because the man's life was saved, but because I always thought those letters were real. Not cool.