ONSTAGE & BACKSTAGE: Spring Breakdown and Tales from Tahiti


Greetings from Logan Airport! Why am I here? Well, it's Juli's spring break and we decided to all take a much needed-break. We asked Juli where she wanted to go and she picked Provincetown. I got so excited; whenever I go there, it's because I have a show to do so this would be the first time in years I've gone solely for vacation.
We got two fabulous rooms booked at my fave hotel, The Anchor Inn, and decided to go Thursday and return Monday. Ahhh...three days and four nights just relaxing. Then, a few days ago, I was at SiriusXM and about to introduce a song from West Side Story. I turned on my mic and referenced Chita Rivera by saying with "Don't forget! I'm doing two shows with Chita this Saturday in New Orelans!" Then I thought, "Hm... that's weird because I'm in Provincetown Thursday through Monday. It must be the following week!" Pause. "Right?" Then I slowly and terrifyingly opened my iPhone and checked my calendar. Sure enough: "Provincetown Thursday, New Orleans Saturday."
I was so depressed! Of course, I love doing shows with Chita, but I was so looking forward to Ptown. I tried to find a flight from Ptown to New Orleans but it would have meant flying Cape Air from Ptown to Boston, then Delta to Atlanta, then a change of planes from Atlanta to New Orleans. I knew that there were too many things that could go wrong with taking multiple flights (mainly from watching "The Amazing Race") and realized I had to cut my vacation down to one day. So, we just flew from New York to Boston and now we're waiting for our flight to Provincetown. Then tomorrow I'll fly from Provincetown to Boston and (because there's good flight back) and take Amtrak to New York. I'll get in at 10 PM and take an 8 AM flight to New Orleans on Saturday morning. Yay?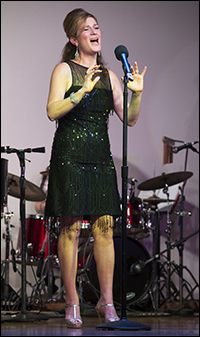 photo by Monica Simoes

I still have to finish ye olde cruise recap! First, I forgot to write about an amazing moment in Ana Gasteyer's show. She was talking about playing Elphaba in Wicked and how, since the show opened in 2004, the audiences would flip out during "Defying Gravity." People would act like it was a rock concert with screaming and cheering, and she'd often see people crying.

Well, near the end of her run, she had the Midwestern (re: stoic) part of her family come see it. After the show, they came to the dressing room and told Ana they enjoyed it, while touting very Illionois expressionless faces. One of her relatives mentioned, quite perplexed, that a man in the audience was crying during "Defying Gravity." He earnestly asked the room "Now, why do you think that happened? Why would a man cry during that song?" Ana was silent while everyone pondered. Finally, one of the other relatives ventured a guess: "Maybe his wife just passed." Yep, that was the only reason offered. Ana and I are obsessed that no one considered that perhaps he cried because he:
A. Was moved by the song's soaring melody and difficult vocals
B. Was stunned by the visuals
C. Identified with the struggle of the leading character

Nope. Apparently, the one and only option that would make a man cry at a musical is that
D. His wife must have just died.