ONSTAGE & BACKSTAGE: Spring Breakdown and Tales from Tahiti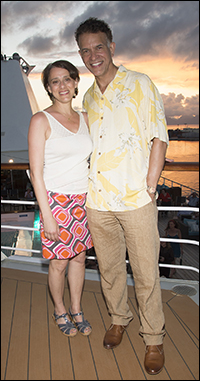 Photo by Monica Simoes

I also forgot to talk about the interview I did with Tommy Tune where he mentioned revivals. He harkened back to the mid-70's when he was doing Seesaw. There was a 1974 revival of The Pajama Game with Hal Linden and Barbara McNair and Tommy said that he and his fellow Broadway buddies thought it was bizarre. He told us that the way it always worked was that Broadway came up with original shows, then they went around the country and then eventually did summer stock and community theatre. All of his friends on Broadway couldn't understand why they would bring a show back.

Tommy voiced what many others have been saying; if we don't have new shows, what are we going to revive in 20 years? So, in honor of his many Tony Awards, let's support all the new shows this season so Broadway doesn't become the most expensive summer stock in the world. Besides the interview, Tommy did his own show accompanied by the great Michael Biagi and, yes, he hauled out full tap numbers. I found this great clip of him winning his first Tony Award. Listen to the reverence that he gives Broadway shows.

The final shows featured Judy Kuhn whom I made sing all the songs from her career that I've listened to repeatedly. Let it be known that she sounds exactly the same! Here she is in the original company of Chess and when she sang "Someone Else's Story" on the cruise, there was no difference.

The last night on the cruise starred Brian Stokes Mitchell who sang so many great songs... many from his CD "Simply Broadway." He did a beautiful version of "Wheels of a Dream" and hauled out sassy dance moves in "It Ain't Neccearily So." Here's the "Obsessed" we did together where he proves he can hold the longest note on Broadway. He was also hilarious when he told the audience he was going to do a production of Side Show starring him and Lewis Black. He then proceeded to do Lewis Black singing "I Will Never Leave You," which basically featured Lewis' signature finger pointing while yelling in a New York accent "I will never ****ing leave you!"

The cruise was in Tahiti and had so many amazing excursions but I was too busy to go on any of them. Except for one! The day that Tommy did his show, I didn't have to rehearse in the morning since Biagi was playing. I could have slept in, but I wanted to do one fun thing in Tahiti and since I was on a such a constant weight gain from the buffets I signed up to do a three-hour hike up and down a mountain.

So, that morning, I forced myself to wake up at 8 AM and James and I got off the boat. We made small talk with the couple who was taking the hike with us as we waited for the tour guide. For some reason, even though it was hot, they were in long pants and long-sleeved shirts. I casually asked why they had so many clothes on and they asked us if we read the email about the mosquito-borne disease. "No," we responded, trying not to have a panic attack, "we hadn't." Well, turns out, Zika Fever was going through Tahiti and it's transmitted through mosquitoes but "it's sickened a few hundred people" they added to make us feel better. Interesting! I got various emails telling me that sound checks was at 3:45 and to bring video footage to tech rehearsals but I never got one telling me I should avoid mosquitoes to prevent untimely death.