ONSTAGE & BACKSTAGE: Spring Breakdown and Tales from Tahiti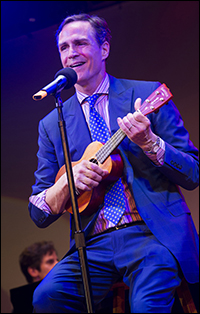 Photo by Monica Simoes
James and I didn't have long sleeves or pants, but the couple offered us their Deet (insect repellant). We sprayed it all over ourselves and all over our clothes. We then borrowed their cream as well and rubbed it all over our bodies. We were covered in harsh chemicals but at least we'd repel mosquitoes... and anyone who wanted to breathe clean air.
Soon we noticed that we had been waiting for quite some time. After 30 minutes, we were told that, turns out, the guide couldn't make it and the tour was cancelled. In conclusion, the one tour I wanted to do never happened. So, the one day I could sleep late I actually woke up extra early for no reason. And James and I rubbed and sprayed Deet deep into our skin and we spent the rest of the morning taking what is known as Silkwood showers.
Anyhoo, let me fast forward to now. I left beautiful Provincetown and flew to beautiful New Orleans where I did two shows with Chita Rivera. She's gearing up to do Kander and Ebb's The Visit this summer in Williamstown along with two fellow Playbill cruisers: Judy Kuhn and Howard McGillin! I'm always amazed by the people Chita worked with. They were all the originals. She was there when West Side Story was being created, when Bye Bye Birdie was having auditions, when John Kander played her the melody for "All That Jazz." She didn't learn the Fosse style from someone, she learned it from Fosse! She was even in the original Can-Can! Yes, she was in an original run of Cole Porter musical!
The topper was when she told me that she auditioned for a School of American Ballet scholarship when she was 14. In the middle of her audition, a blister on her foot started bleeding. The man running the audition stopped her dancing and got her a bandage. She put her leg in his lap and he applied it to the blister. Who was the man? George Balanchine! He's the one who then chose her for a scholarship! And who was her dance partner? Diaghilev! (That part's a lie. Barely.)
Okay! This week is the Easter Bonnet Competition (Monday and Tuesday... tix at BroadwayCares.org), a recording of "Seth Speaks" for SiriusXM on Wednesday (tix here) and a Chatterbox on Thursday at 5 PM (info at SethTV.com). Speaking of SethTV, we just added Chatterbox videos with Patina Miller and Jefferson Mays! Take a gander and peace out!
(Seth Rudetsky is the afternoon Broadway host on SiriusXM. He has played piano for over 15 Broadway shows, was Grammy-nominated for his concert CD of Hair and Emmy-nominated for being a comedy writer on "The Rosie O'Donnell Show." He has written two novels, "Broadway Nights" and "My Awesome/Awful Popularity Plan," which are also available at Audible.com. He recently launched SethTV.com, where you can contact him and view all of his videos and his sassy new reality show.)