ONSTAGE & BACKSTAGE: Time Traveling to the '70s and Avoiding Disaster! With Patti LuPone
*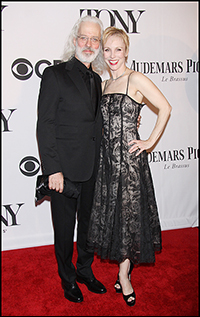 Photo by Joseph Marzullo/WENN
Happy Valentine's Day Week! This is a busy week! Thursday night (Feb. 13) I have a "Chatterbox" at 5 PM (Charlotte d'Amboise and Terrence Mann from Pippin), then Disaster! at 7 PM and then the whole cast is heading over to the Laurie Beechman Theatre on 42nd Street to do Broadway Sessions, which is billed on their Facebook page as "NYC's ultimate post theatre extravaganza."
We're all going to be singing as well as doing some of their signature games with the audience. If you want to spend seven straight hours with me, then come by Thursday night starting at 5 PM! If you prefer a non-stalker amount of time, perhaps just pick two out of the three. If you're an everyday Broadway fan, then maybe just one to sample my style. And if you've wandered upon this column by mistake, I'm sorry that at this point you've now vowed never to read it again.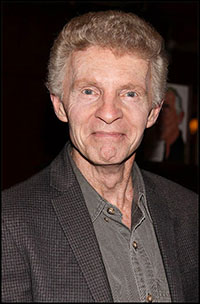 photo by Joseph Marzullo/WENN

I had some great interviews this week! First on "Seth Speaks," I did a '70's hour. First up I had Billy Hayes, the guy who wrote "Midnight Express"... the book about a young guy being thrown into a Turkish prison. Why did he write that book? Because he was the young guy thrown into a Turkish prison! Right now, he's starring in Riding the Midnight Express, a live show all about his experience which features a lot more details than the book and clarifies the false things portrayed in the film. It turns out, he had made three trips from Turkey to America with no problem prior to the time he was busted. Right before his fourth trip, someone brought a bomb on a plane so the Turkish authorities suddenly starting frisking people before they got on outgoing flights. I asked him about getting tortured and he clarified that he wasn't tortured. He explained that torture is what the prison guards did to people whom they needed information from. No, he said, he wasn't tortured; instead he was hung upside down and beaten repeatedly on the soles of his feet. I hear the difference and my response is "tomato, tomahto."

What's even more horrifying about his story is that at first he was sentenced to a few years in jail... but then he had a re-trial, and it was changed to life! The whole story of his escape is detailed in his play, but I did ask him what food he obsessed about while he spent those five years in jail. He told me it was cold applesauce (!) and then he told me that the first amazing meal he had after his escape was peach pancakes and a strawberry soda. It was so good that when the waitress came back and asked how everything was, he ordered it again! I was secretly mortified, thinking about how it doesn't take five years in jail for me to order two meals in a row. It simply takes a salad for lunch (AKA "I was so healthy... I deserve a treat").

Along with the '70's theme, I also had Andrea McArdle, who's doing an act at 54 Below this week. She's also having Lea DeLaria come on the show so they can sing "Bosom Buddies" and recreate the time they spent doing Mame. The reason I put Andrea on a '70's-themed show is because she came to Broadway in 1977 and has so many amazing stories that all feature a non-stop roster of 70's names. "Do you know who has Liberace's furs? Rip Taylor!" (And she did an act called 70s and Sunny at 54 Below last year!)

Andrea was discussing the difference between being on Merv Griffin versus Mike Douglas, and she said that Merv would ask a question and then often answer it himself, while Mike liked to have every question pre-planned. Andrea's parents told her that she was always so well-spoken on "The Mike Douglas Show," and she told them it was because she'd see all the questions on the teleprompter before they were asked, so she had plenty of time to prepare her answers. Speaking of Merv, I found this great clip of her performing "Tomorrow" on his show when she was 14 years old, after her Tony nomination. She sounds SO GOOD!