ONSTAGE & BACKSTAGE: Time Traveling to the '70s and Avoiding Disaster! With Patti LuPone
To finish out the '70's theme, I had the newest cast member from Disaster! on "Seth Speaks." Max Crumm is taking over the role of Scott because Robb Sapp is leaving to do The Lion King. Of course, I was upset that Robb was leaving until I heard that he begins his tour in Hawaii. After I found that out, I immediately sent my pic and resume to Julie Taymor. Regardless, Max is starting on Friday, and after the interview, he, Juli and I took a photo. I was the only one without glasses so I added my own.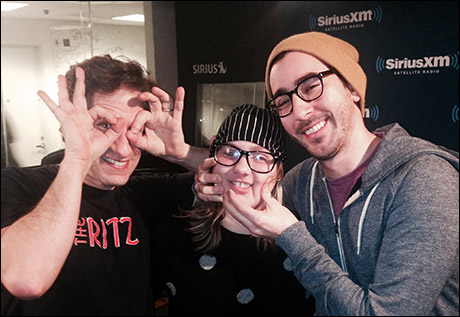 I first heard of Max from my initial job at Playbill.com: Writing a weekly (passive-aggressive) synopsis of the Grease reality show back in 2007. I decided to re-read those columns, and I'm obsessed with my focus on minutae. Here's a sample: On a side note, I cannot tell host Billy Bush's height. He's as tall as Laura Osnes, but Ashley Spencer is taller than he is. Is Ashley 5'6", and he's 5'5"? Is he 6'7", and she's 6'8"? They're always standing together on a blank stage. Why can't they stand next to something whose height is known by all? Like Tommy Tune or Baayork Lee?
Anyhoo, Max won the competition and played the role of Danny in the revival of Grease and now he's starting in Disaster! playing Scott, the (nerdy) best friend of the romantic lead, Matt Farcher. Speaking of Matt, there was a great article written about him last week where they called him Disaster!'s Disco Hunk. Here 'tis.
Matt also featured heavily in a conversation I had after Friday's show. Patti LuPone came to the show and I was so excited! As many people know, I've been obsessed with her ever since I got the album of Evita for my Bar Mitzvah. Knowing that she was in the audience watching was thrilling... and terrifying. I was nervous that the show would be too comedic and not "Juilliard Acting Company" enough for her. Before curtain, James asked if she could come backstage afterwards, but she told him that she had to rush back home to Connecticut after the bows because she had to get up early the next day. Well, I really wanted to see her after the show, so right after bows, I went into the audience to head her off at the pass. Turns out, by the time I walked to her seat, she was gone. Wah. Turns out, she hightailed it out of her seat... to backstage where she was waiting for me!
She loved the show! I was so relieved. She wouldn't stop praising it and especially the actors. "Where did you find this cast? And those voices!?" She told me she couldn't believe I could dance (!) and demanded I add it to the concerts we do together. I guess I could accompany her while in a full split... if I could do a full split. Regardless, she then asked me where we found the nun. I told her that Jack and I have been friends with Jennifer Simard for 20 years and we both thought she'd be great in the role. She told me to tell everyone that she's going to go home and read their bios, which she "never does!" Then she saw Matt Farcher and told him how great he was. He was in a slight state of shock and she went on... telling him that he needs to play Marius in the Les Misérables revival. He explained that he went in but wasn't cast. She asked, in full Evita rage, "Who's the casting director?" Before Matt and I were responsible for a phone call that would begin with, "I am the original Fantine and I demand an explanation," I asked Patti for a pic. Take a gander and ignore the crazy makeup from the show I was still wearing.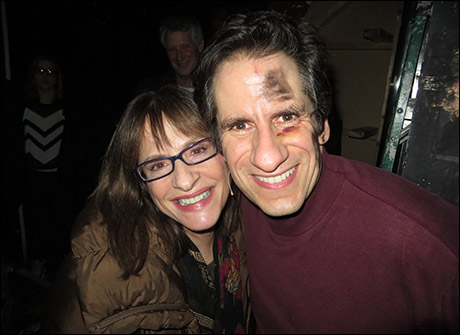 It was a big night for the show because it was our first one selling standing room tickets! We were super crowded because Playbill's Phil Birsh dedicated the night to passengers who have been on the Playbill cruises. It began with dinner at Frankie and Johnny's restaurant, followed by the show, a talkback with the cast and then an open bar at Sardi's! So fun! Speaking of fun, the brilliant comic Judy Gold is starting this week in the role of Shirley! If you've never seen her hi-larity, watch this video of the two of us.

Come see us Valentine's Day week... prizes are given out every performance! And you'll get to see Judy in the pants suit I took a picture of during her costume fitting. Our costume designer said he made it with fabric he bought at Mood! As a Project Runway fan, I immediately said "Thank you, Mood!" Anybody? In that case, peace out!

(Seth Rudetsky is the afternoon Broadway host on SiriusXM. He has played piano for over 15 Broadway shows, was Grammy-nominated for his concert CD of Hair and Emmy-nominated for being a comedy writer on "The Rosie O'Donnell Show." He has written two novels, "Broadway Nights" and "My Awesome/Awful Popularity Plan," which are also available at Audible.com. He recently launched SethTV.com, where you can contact him and view all of his videos and his sassy new reality show.)