ONSTAGE & BACKSTAGE: What Show Tune Did You Sing in High School?



Photo by Joseph Kelberman
*
Ahhhh. I can relax a little. Last Monday I launched SethTV.com, I combining it with a benefit for the Chesapeake Bay Academy and there was a lot to do to get the show ready. Usually, when I do a benefit, I book the singers and have them sing a great song. Deliciously simple. This required all the performers to sing a song from a role they did in high school. But I knew that if they just sang the song as is, it would be enjoyable for 20 seconds and then become a live version of Ambien. So, every song had a concept attached and that's where the headachy-ness came in.
The first episode of my reality show is all about me doing a fundraiser — and how last-minute and panic-stricken I am throughout the whole process. Last Monday was no different. I was photocopying music up until the last minute and solidifying concepts up until "places" was called. But it all came together! The whole show began with Christine Pedi singing a song from her first show, Godspell, which she did at her all-girls high school. She gave us a sample of "Save the People" up the octave with the horrible soprano straight tone she used as a 15-year-old. After a few measures, she stopped and asked me who my ideal female cast would be and she then did her amazing imitations to create an all-star version of Godspell. She did Patti LuPone singing "Day By Day" and then Judy and Liza doing "All For The Best." It was perfect to have Liza do "Don't forget that when you get to Heaven you'll be blessed. Yes! It's all for the best!" She also did a hilarious version of Bette Davis doing the finale, which was simply a Bette line-reading on "Oh, God, I'm dying." Then "Oh, God. I'm dead."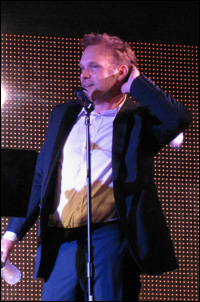 photo by Joseph Kelberman

Next up came Norbert Leo Butz. He told everyone that he was too embarrassed at first to do theatre in his school because he was a jock, so he would go to neighborhood all-girls schools and volunteer himself. He literally called it "making the rounds" because he rented himself out to so many of them. First he did his Harold Hill for us and sang a jazzed-up version of "The Sadder But Wiser Girl." So good! Before the concert, I asked him to sing "I'll Know" from Guys and Dolls (because he played Sky Masterson), and I emailed him to tell him that my friend Melissa agreed to sing it with him. When we began rehearsal, I brought Melissa onstage. He got so excited because he didn't realize that "my friend Melissa" was, in fact, Melissa Errico! He kept telling her that he had no idea she was doing it and that he was thrilled. Then, as soon as she sang her first note, he interrupted and said, "I can't believe I get to stand here and listen to you sing this!" My initial concept was to have Melissa tower over him because Norbert was an especially short leading man in high school. He actually still is, but he told me that people don't realize it when they've seen him in shows. He said that fans have met him and been shocked that he's only 5-feet-7-inches tall. They've told him "You looked so tall in Rent and Wicked." He said, "Yeah, that's because Daphne Rubin-Vega is really short and Kristin Chenoweth is even shorter. Of course I look like a giant next to someone who's 4-foot-10!"

When Norbert came to rehearsal he asked me if we could do his concept for the number. He based it on the fact that through many years of high school, he was a major stoner! Nowadays he never does anything of that nature, but back then his friends would say, "If weed were a woman, Norbert would marry it." Wowza! That night, Norbert told the audience that when he played Sky he was very method-y and found all these moments in the text that related to his pot addiction. He then sang the song as he did back then. And the crazy thing is, there actually are so many lines that relate pot! Sky says, "You've got this guy all figured out. Right down to what he smokes." Next, he actually tells Sarah: "You're talking about love. You can't dope it like that." Dope it like that? WTF? Norbert also added his own amazing touches. When he got to the lyric "And I'll stop. And I'll stare…" he added a hilarious stoned-style, staring-at-nothing moment for 15 seconds. And, of course, by the end, the two of them sounded so phenomenal together.