ONSTAGE & BACKSTAGE: Who Wears Short Shorts? Cheyenne Jackson Wears Short Shorts!


*

Yes, it's time for another installment of airport headaches. Let's go! So, I have shows almost every weekend in Provincetown at the Art House and Cheyenne Jackson was booked for July 4-6. I usually leave early morning on the day of the show but because Hurricane Arthur was slated to skirt the East Coast on Friday, my manager/producer of the series (Mark Cortale) asked me to leave Thursday. And by 'asked', I mean 'begged.' This meant that I had to cancel my "Chatterbox" and rush to the airport right after I did my SiriusXM show with guest star, Andrea Martin. I hopped in a cab at 49th street and, after a half hour, I made it! ...to 42nd street. The traffic was crazy. My flight was for 5:34 and it was looking like I wouldn't make it to the airport until 5. I had already checked in so I thought I'd still be able to catch my flight. Then my driver told me he was going to get me into a different taxi with a new driver because he had to get his cab back to the garage or he'd be charged a $40 late fee. There were no cabs around so I told him that I would pay him the extra money. (And by "I", I mean Mark. I decided he can write it off as a force majeure.)

I was getting nervous that the security line would be long and I'd miss my plane when I got there, so I checked the flight status on my cell phone, wishing it was a little delayed. Yay! It was! Unfortunately, I wasn't specific when I wished: It wasn't delayed 15 minutes, it was delayed 90 minutes! This meant it would get in to Boston at 8:10 PM, and I'd miss my 8 PM Cape Air flight to Provincetown. We got to the airport and I immediately called Cape Air. They told me they'd probably be able to get me on the 9 PM flight. Yay! Then I found out my flight was delayed until 9:50 PM. Son of a-! I ran to a different airline (United) to see if I could get on one of their flights to Boston so I'd make my connection. Turns out, they were all sold out. I asked to get on a wait list. Well, you can only be on a wait list if you purchase a ticket and they couldn't sell me one because they were sold out. I hung out in the United section and kept going back to the counter to see if a seat would become available. Suddenly, one did! Yay! "Would you like to purchase it?" I was asked. "Yes, ma'am," I replied. "Great," she said. "The price is $913."

Wowza. Even I couldn't force (majeure) Mark to pay that. So, I resigned myself to taking the 9:50 flight. Since I'd be landing after the last Cape Air flight, Mark told me he'd get me a car from Boston to Provincetown. He called me a half hour later and told me he couldn't get me a car so he booked me a hotel and an early morning flight on Cape Air. Well, now I'm waiting for my 9:50 PM flight and there's a crazy thunderstorm at Newark so they've issued a "ground stop." That means that no planes can land here, so the plane we're supposed to take is delayed. What does that translate to? How about my 5:34 PM flight is now scheduled to leave at 11:30 PM!

Follow up: My plane got into Boston at 1 AM. I went to the hotel and got into bed at 2 AM. I then woke up at 6 AM to fly to Provincetown. And now, the point of this entire story which is basically me bragging: After four hours of sleep, I got to Provincetown and took a step class. Yes! I still got it! (Exercise addiction with no actual results).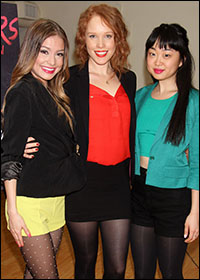 photo by Joseph Marzullo/WENN
This week on "Seth Speaks" I had the three Heathers from Heathers. I, naturally, asked about onstage mishaps and Jessica Keenan Wynn who plays Heather Chandler told me about her recent stint on the Les Misérables tour where she played the Factory Girl. She said that right before her solo in "At The End of the Day," the zipper of her skirt split and the whole thing started falling off. She grabbed it with one hand so she wouldn't wind up showing the audience her full French bloomers. However, she still had to continue with the staging of the number. So, when she got to the part where she has to push Fantine, she help up her skirt with one hand and pushed with the other. The audience, I'm sure, thought nothing was wrong since people push other people all the time with one hand. But how about when she got to the part where she's supposed to furiously choke Fantine and also had to do that using only one hand?