ONSTAGE & BACKSTAGE: Why Did I Need a Sports Bra When Interviewing Hugh Jackman?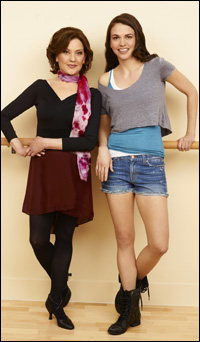 Photo by ABC Family/Andrew Eccles

Amy told me about the casting of "Gilmore Girls." When Amy was casting the show, she saw tons of amazing older women to play the mother of Lauren Graham, however she didn't feel any of them were right. The network started to get irritated because she was rejecting so many brilliant actresses. Amy told them that when the right one walked in, she'd know. One day, Kelly Bishop walked in, and she knew! She immediately told them that Kelly was perfect for the part and she was cast. If you don't know, Kelly was the original Sheila in A Chorus Line and here's a clip I love of her doing "At the Ballet."

When Amy developed "Bunheads" she didn't write it initially for Sutton Foster. But after she saw Anything Goes, she thought Sutton would be right for the lead role. She met her for lunch "to see if she was crazy" and decided she should wasn't and she should be cast. The network gave her the OK. But Amy wanted them to see Anything Goes to see if they agreed that Sutton would be great. Weeks passed and they didn't. The network felt Sutton should just be hired. But Amy then asked the network to bring Sutton in for a screen test. I asked why she was pushing for them to see Sutton since they obviously gave Amy carte blanche. Amy revealed that networks often have "buyer's remorse" and once they sign on for a show or a star they immediately second guess themselves and start regretting the decision. She wanted them to be behind Sutton just like she was so they would be united. So, Sutton flew to LA and tested. Amy asked what the network thought, and they were like "Yes! We said we'd sign her weeks ago! Sign her!" And that's how Sutton got the gig.

Amy and her husband are big listeners to my SiriusXM show so when the final episode of the second season was being written and they knew they needed someone to play Sutton's audition pianist, they decided they had to have me. Just to confirm their intention, they also named the character "Seth." Delish! Sutton called me before we filmed and asked me to arrange a 30-second version of "If My Friends Could See Me Now" to be her audition song. I made it uptempo, stripper-ish and then added a great belted C for her to do at the end. Watch the scene and, just to add to your enjoyment, you should know there was never any lipsynching on this show. All the singing was filmed live!

As for Violet, Sutton invited Amy and Dan to the dress rehearsal when she did it at Encores! Off-Center. They flipped out and decided the show had to be on Broadway. They approached the Roundabout Theatre Company, who wanted to do it but needed more enhancement money. Amy and Dan raised the money, and now the show is up and running! I asked them how they felt working on a Broadway show and they said that everyone realized how Broadway-obsessed they were because they were the only ones who were giddy with excitement... for tech rehearsal.

As for the Tony Awards, I got hired by "Entertainment Tonight" to do their coverage, and it was super fun. First, I went to Radio City Music Hall on Thursday to talk to Hugh Jackman. You can watch it here but, you should know it was cut down a bit. At one point I asked him how Wolverine would react if he won a Tony Award. I announced "And the winner is... Wolverine!" and he glared at the camera and said, "Go f--- yourself." For some reason, they cut that. But they did keep the moment at the end when Hugh started demonstrating his opening number hopping and I joined in. I then grabbed my chest and mentioned that in order for me to continue I needed a sports bra. Take a gander here.