Patti LuPone Prepares to Christen NYC Nightclub, 54 Below, With Faraway Places



Photo by Ethan Hill
"I got a telephone call from my agent with the offer to open the club, and Richard [Frankel] is very dear to me as are [Tom Viertel, Marc Routh and Steven Baruch]," LuPone said earlier this week. "I love them all... because they've been my producer on two shows, and I was very happy to oblige… And, it gave me the opportunity to break in a new show!"

Tony Award-winning producers Viertel, Routh, Frankel and Baruch are the forces behind the new nightclub and restaurant at 254 W. 54th Street, one floor below Studio 54.

Frankel told Playbill.com it didn't take long for him or his fellow producers to decide which artist should open their new endeavor.

"We needed a huge star to open with a bang," Frankel told Playbill.com. "We needed one of the biggest Broadway stars. We love [Patti]. We did Sweeney with her, which was one of the best experiences of our lives. And, we did Gypsy with her, which was also just a blithering love-fest. And, it took about a microsecond of figuring it out — which of the biggest Broadway stars we would go to."

LuPone, it should be noted, was Tony-nominated for her tuba-playing turn in the John Doyle-directed revival of Sweeney Todd, and she nabbed her second Tony Award for her breathtaking performance in the Arthur Laurents-directed revival of Gypsy.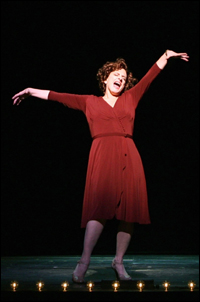 photo by Joan Marcus
When asked what makes LuPone unique as a performer, Frankel answered with a laugh, "Where do you start?"
"The voice, her theatre sense," he continued. "She's an actress first and foremost... and that's why she communicates so well. And, that's why [audiences] love her as passionately as they do. ...She is the real deal, theatre-wise, and there are not that many."
LuPone revealed her 54 Below program, which is entitled Faraway Places, will feature "a little bit of Gypsy in My Soul, which has never been done in New York, and one song from Patti LuPone on Broadway, 'Come to the Supermarket in Old Peking,' and the rest is brand new." Among the new songs are "Pirate Jenny," "Traveling Light," "Black Market" and the title tune. "This is the first act of what will eventually be a two-act show, and I can have a return engagement for the second act," LuPone said with a laugh.
(The singing actress is scheduled to return to Broadway later this season in David Mamet's play The Anarchist. She said of that coming project, "I'm really, really anxious and excited for this piece to happen. David's been accused of not writing female characters, and I've played several of them, and it's a total fallacy. He's a great writer of women, and these are two kick-ass, powerful parts for women of a certain age, as they say.")