PLAYBILL BRIEF ENCOUNTER: Patti LuPone Talks Mamet and The Anarchist



Photo by Ethan Hill
*

Patti LuPone and playwright David Mamet began their theatrical love affair in the 1970s while touring the country with The Acting Company. Over 30 years of opening and closing nights have gone by since that auspicious bus ride, and the two have gone on to win numerous awards including Tonys and the Pulitzer Prize.

Mamet and LuPone are reunited this season in The Anarchist. The playwright also directs his world-premiere drama, which centers on a woman (LuPone) serving a life sentence and an authority figure (played by Debra Winger) who will determine her fate. It opened Dec. 2 at Broadway's Golden Theatre. Critics dismissed the work, and by Dec. 4 producers announced that the drama would be short-lived — closing Dec. 16 after 23 previews and 17 performances.

Playbill.com spoke with LuPone prior to the start of previews, during the rehearsal period for The Anarchist.

I love the story in your memoir where you talk about meeting David Mamet in the 1970s when you were touring the country with The Acting Company. Does this feel like a homecoming for you?
Patti LuPone: Yes, it does. It's been 15 years since I did one of David's plays, it was The Old Neighborhood, and that was too long for me [to wait]. I learn so much from David when I'm in the room with him and I missed that. I miss being directed by him, listening to him talk about acting, listening to him talk about life. I miss the lessons I learn from him and I miss his friendship. We all grow and end up in different places. David lives in L.A. now and I miss that input and I miss that mind.

He's also directing you in this. Mamet has his own style of directing. I loved his book "True and False" because it reminded me to search for clarity and get out of my own way. Is that freeing to you as an actor?
PL: Get out of your own way. Exactly... It is. I wrote about that in my book because the first time I heard it was from David. I was quite young it was in the late 1970s, and he said, "Let the script do the work you have the fun. Do not act upon the words." It's hard for young actors to understand that intellectually and emotionally. I think a lot of times actors feel they have to "act." And truly we're merely storytellers, and we're telling the story of the playwright, and that's all we're responsible for without comment. And David taught me that, in simple language. They may have been trying to do that at Juilliard, but thanks to David, I understand it.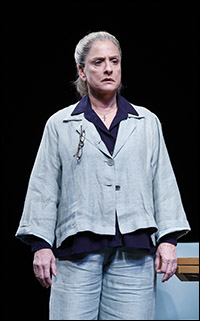 photo by Joan Marcus
You and Mamet reuniting sounds like a no-brainer. It's taken a long time. What got the ball rolling on The Anarchist?
PL: I was at the opening night of Race, and afterwards I saw Rebecca Pidgeon [Mamet's wife] and I said, "Rebecca, I gotta ask David for a play. It's too long, this is just too long," and she said, "Do it Patti." So, I wrote David a letter and I said, "I don't want my relationship with you to end with The Old Neighborhood." And then he called me, and he started to talk about this particular play, The Anarchist. Time went by, and then I heard there was a London production. I said, "Find out whether I can go to London," and they weren't interested in me for a London production. So, I wrote David and I said, "Let me play it in New York," and he got on the phone immediately and he basically said, "Fuck London, let's do it here now!" I said, "You're directing aren't you?," and he said, "I hadn't thought about it." I told him, "You have to, because I know my best work is when you direct." My best work of David's work is when he directs me. Who better to direct his own work, in my opinion? I would much rather be directed by David than by anyone else. That started the ball rolling.
You really went after this one and got everything you wanted!
PL: It's the first time I've ever really pursued something like this. I don't go after anything, because I'm lazy. But David is just too important to me. He's too important to my development as an actor, and too important to me as a friend to have this experience go by without me being able to partake in it. What I treasure about it is that he's the only American playwright who has asked me to take part in an original piece, and for that reason alone I'd follow him to the ends of the earth. How much I learn from David every time I'm in the room with him — that's immeasureable. He's made me a better actor — every time I work with him. That's what it's about. I wanna be as good as I can be so the audience can come, understand the play, relax and then go home and argue the points. It's my responsibility to tell that story and not get in the way.