PLAYBILL BRIEF ENCOUNTER With Cameron Mackintosh; The Impresario Brings Les Miz to the Movies


*

It took 27 years for the 1985 stage hit Les Misérables to get a big-screen version — not that the cinema is the ultimate goal of plays and musicals. But Les Miz fans couldn't help wonder over the years: "Wouldn't this decades-spanning epic about social conflict and romance look great in a sprawling, cast-of-thousands, wide-screen movie?"

It finally arrived from Universal and Working Title Films on Dec. 25, with the release of Oscar-winning director Tom Hooper's cinematic version (and vision) of the musical by writers Alain Boublil (book and lyrics), Claude-Michel Schönberg (book and music) and Herbert Kretzmer (English lyrics). William Nicholson ("Shadowlands," "Gladiator") penned the screenplay with the above trio of writers. As you probably know by now, the movie stars Tony Award winner Hugh Jackman (The Boys From Oz) as Jean Valjean, Anne Hathaway as Fantine, Russell Crowe as Javert, Tony winner Eddie Redmayne (Red) as Marius and more (all of them singing their songs live as the cameras rolled rather than lip-synching to pre-recorded music, which has been the industry norm for 70 years).

Original stage producer Cameron Mackintosh, who put all the pieces together for the stage smash, first seen in London in 1985 before it stormed Broadway in 1987, where it won the Best Musical Tony Award, is among the film's producers — along with Working Title's Eric Fellner, Tim Bevan and Debra Hayward.

Playbill snagged Mackintosh for a chat in the weeks leading up to the film's release.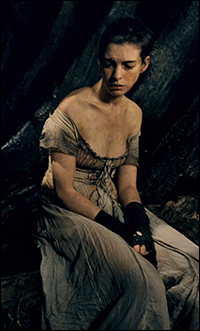 Universal Pictures
Tom Hooper's use of close-ups during musical sequences, particularly with "I Dreamed a Dream" and "Empty Chairs at Empty Tables," lends an almost experimental visual feeling to the film.
Cameron Mackintosh: That's Tom's style, you know. His vision of this has absolutely been brilliant. It has been a remarkable mixture of brilliant talents from the cinema that Tom and Eric (Fellner) and Debra (Hayward) have assembled on one side, and Claude-Michel and Alain and myself and our music team from the musical theatre; we wanted to collude to create something new. The way we've done it is so unlike any movie [that has] been done. We discovered, once we got to the edit, that however brilliant the acting and the visual of it, its power is only released through the extraordinary drive of Claude-Michel's score, which will swoop you along — as [it does] in the theatre, as it does in the concert hall. It's amazing how this piece of material, if you do it right and you try to reshape it for the medium you're in, will just work.
Did you know early on, in your conversations with Tom Hooper, that the film would stress close-ups and intimacy?
CM: Well, I'm not surprised. Have you seen any of the concert versions?
Sure, on DVD.
CM: Well, if you look, both at the Albert Hall and at the O2 [films], you'll find that two-thirds is close-up. The original concert we did, in 1988 in Sydney, at the Sydney Festival, we had over 125,000 people. The camera crew…[captured actors'] faces so that the show worked in concert for this unknown audience who never knew a note of it. That was the first inkling that I had that somehow we'd stumbled on something, which was like the combination of a great concert and a great silent movie — it had all come together.
[Those filmed concerts are] why it's always been in the back of my head that if we ever got to do this [as motion picture], it has to be [sung] live. The power of Les Misérables is the fact that it is a story that happens to be sung.