PLAYBILL BRIEF ENCOUNTER With Holland Taylor, of "Two and a Half Men" and Her Broadway-Aimed Ann



Photo by Joseph Marzullo/WENN
*

If the stars align (and real estate is available), Ann — currently playing a run to Jan. 15 at the Kennedy Center's Eisenhower Theatre in Washington, DC, following a Chicago engagement and regional development — will appear on Broadway come spring. Producer Bob Boyett is behind the project.

For now, Taylor is conjuring the charismatic Texan nightly, working with director Benjamin Klein, and having a daily love affair with Paul Huntley — or at least his wig design for the straight-talking one-term 1991-95 governor, who was as well known for her silver-white coiffure as she was for her candid turns of phrase. Taylor talked by phone about being inspired by the complicated Richards, who died of cancer in 2006.

I love the strong, funny women you've played over the years.
Holland Taylor: Thank you very much. I've been extremely fortunate. I really fell into a pile of funny with most of the parts I've gotten.

Does your television shooting schedule for "Two and a Half Men" factor into the timing of you possibly bringing Ann to Broadway this spring? Your current engagement is called "Broadway-bound."
HT: Well, the play actually determines when I'm available to do the television. The normal television year, we stop shooting around the end of March/beginning of April, so I would not be missing much of it if I would have to leave a month early.

I love stories about pioneers.
HT: Yes, boy, do I ever. I didn't know how much I did!

What attracted you to Governor Richards? Did you always know you wanted to do a solo play?
HT: Never. In fact, at my age, it would be lunacy. No, I had no interest in doing this. [Laughs.] If this were just an ordinary play, if this was a play that didn't have personal resonance for me, I think it would be very, very hard to do because the amount of stamina [required]. Also, the sense of responsibility [is] just enormous. However, in the case of this play, the "flowback," as I have come to call it, from the audience, is so potent. There is the most astonishing liveliness and warmth that happens in the audience in this play. Maybe they're having sort of a hologram experience with Ann. The effect that she had on people…this play about her echoes that. The warmth that comes back from the audience is so sweet and so uplifting and exciting that I really feel pretty good energy, which is really saying something. I would not just generically want to do a one-person show. No, no, no, no, no.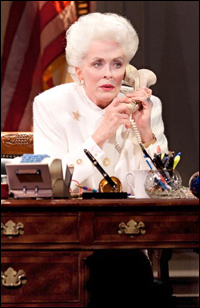 Digitalegacy
You crafted this, you wrote this, you know its shape and goals. I would think it's perhaps easier to perform a solo play that you wrote.
HT: It's really more that it's vitally important to me. I have done many versions. There's not a line that hasn't been honed and honed and honed. It's in two acts. It's a substantial piece of writing. It is, I would say, deeply researched and deeply felt, so I have an enormous personal stake in this, emotionally, I mean.
When did your journey start with this play — the seed of it?
HT: Oh, her death. Her early death. She was not someone I knew a great deal about, except that I always enjoyed her — just tremendously — when she would be on "Larry King" or "Politically Incorrect." She was just one-of-a-kind — an absolute one-off. I think she had a place in my heart… She was a star in the heavens that I always counted on, and never thought I would not have, but I never really thought, consciously, about any of this. When she died, I was so bereft. Finally, after a couple of months, I realized that I was sad for my country. I think she was a great patriot. I may have said elsewhere: I think she deserves a Mt. Rushmore of her own. She represents so much — not just women, not just Texas, not just the female politicians. This is someone who lived a large life. I just wanted to bring this to a larger audience and, also, to an ongoing audience because she was taken very young. She just turned 73. She was at the top of her game where the things that she shared were so valuable — such a kick in the ass.
There was more work to be done.
HT: Yeah, but it isn't about politics. There wasn't work to be done about politics. She was bigger than politics. She was only governor for four years. She was a person who lived with an aggressive viewpoint in life where she was never sort of "Chicken Little," the way I, for instance, am. She always knew life was rolling forward, and as the wheel turns, it seems to go back as it goes under, but then it rolls forward and comes above again, and you're always advancing. And, I think she felt that way, not only about society, but about any individual, including herself. You roll on. You rolled on. And, she has given me enormous inspiration.
So, in 2006, when she passed, did you say, "There's a character here that I want to explore"? Did you know very quickly that you wanted to develop…?
HT: No, not at all. This is not a professional choice. This had nothing to do with, "Oh, I want to do a project. Oh, I'll do a one-person show." This is because I was very moved by her death and was struck by how moved I was since I did not know her. So, I tried to explore why she was such a loss, and why I felt, ultimately, that the loss was America's. After I researched her for a couple of years, I had a burning need to put her forth; to put an understanding of what this total person was really like — warts and all, I might add. This is no love letter. This is not a valentine.