PLAYBILL BRIEF ENCOUNTER With Jason Robert Brown, Now Directing His Beloved Musical The Last Five Years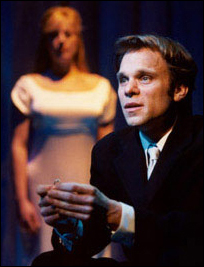 Photo by Joan Marcus

Are you making any changes to the material, or are you treating the show as though someone else wrote it?
JRB: I'm definitely not treating it like someone else's piece. But the show very tightly constructed, so there's not a whole lot I could do. Anything you pull out and change is going to affect something else down the line.

No tweaking the occasional lyric that's always bugged you?
JRB: There may be little stuff like that. I've performed in the show a few times in concerts with Lauren Kennedy and Julia Murney, so there are things that have crept in over the years, little things I've added, little fixes I've made, and those will all be in this version.

Is the show still set around the beginning of the millennium, or has it been updated?
JRB: So much about the motor of the show is about these two people not being able to communicate. You can still not communicate with people even if you have stuff like texting and Facebook, but those weren't part of the vocabulary back then, so they're not in the show. I felt that if you said it was 2013 and yet they don't spend time on Facebook, Twitter, texting, then they're not really being young, contemporary New Yorkers, so I decided to leave it be. I'm not having them wear period fashions that suggest 1998, but I didn't want to do anything that felt aggressively au courant.

The original Off-Broadway production closed about two months after opening. What happened?
JRB: First of all, it didn't get very good reviews. It was also the first commercial piece to open Off-Broadway after Sept. 11. We were downtown at the Minetta Lane, and people were barely coming to the city much less that far south, so I think we definitely suffered for a lack of traffic.

With such a brief run, you couldn't have foreseen the rich life that the musical would have after that.
JRB: I actually did sort of foresee it. It's a show with two characters, so I knew that people would want to do it. There was no guarantee, but I hoped it would have the life that it in fact has had — that it would go out into the world, be shared, and become part of contemporary musical theatre vocabulary. We took a lot of care with the cast album, because we knew a lot of people would be listening to it.

Did that hope for the musical's future make the premature closing less devastating?
JRB: No, it was still devastating. I mean, "devastating" makes it sound like — well, no, maybe "devastating" is exactly the right word. I didn't want to be in the business anymore after that. I really didn't. I thought that if this town didn't know how to support that kind of work, I didn't need to be here. I didn't have another show in New York until 2008 with 13, and that was because I left town and moved to L.A.