PLAYBILL BRIEF ENCOUNTER With Jason Robert Brown, Now Directing His Beloved Musical The Last Five Years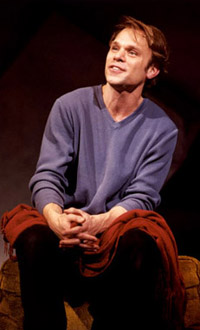 Photo by Joan Marcus

The Last Five Years and your 1995 musical Songs for a New World are proof that a show doesn't need to open on Broadway to have a very successful life.
JRB: They may be the exceptions that prove the rule. I'm not sure that they're proof that anybody else can do it.

Fair enough, but they're your exceptions. With those unconventional successes under your belt, must Broadway still be the goal as you work on your musical adaptations of Honeymoon in Vegas and Bridges of Madison County?
JRB: Certain shows demand certain venues. When I'm writing for Broadway theatres, which I am for Bridges of Madison County and for Honeymoon in Vegas, they're Broadway shows that wouldn't feel right in an Off-Broadway house or in a small regional theatre. The Last Five Years and Songs for a New World were deliberate chamber pieces meant to play in small houses.

The Last Five Years has become a very recognizable commodity. Even without Hollywood actors, do you still have hopes for a Broadway transfer?
JRB: I really don't give a shit one way or the other. I don't think The Last Five Years needs to be on Broadway to be a success. If it does end up on Broadway at some point in the rest of my life, it has to be handled very carefully so that it fills that room the way it's supposed to. The show means so much to me, and I hope it's received in the spirit it's given. New York is really a character in the piece in such a specific way, so I'm just happy to have it back here. And whoever comes, I hope they like it.