PLAYBILL BRIEF ENCOUNTER With Kathleen McNenny, the Good Wife of An Enemy of the People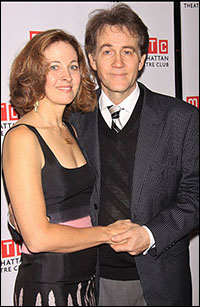 photo by Joseph Marzullo/WENN
What did Boyd see in the part that made him think you would be good in it? Or did you see it, too?
KM: Well, the other thing is that we had been asked to do this play — together — about six years earlier down in DC, and we couldn't do it. So I think, when it came up again, we already had kind of psychologically thought about it, having been asked to do it together before. We both had been thinking about it that way. When it came up again, it was a natural thing for him to suggest me to Doug.
Are you planning any more pairings like this?
KM: No. No immediate plans, certainly.
I see you've hit a lot of the local television bases — "Law & Order," "Criminal Intent," "SVU."
KM: I've been fortunate to do some. I'm a migrant worker. I follow the work so, wherever it happens to lead me is where I'm at. I do commercials. I do voiceovers. If I get a movie, I'll do a movie. If I get television stuff, I do that. I like doing theatre very much. Theatre doesn't pay as well, but it is really rewarding.
Regional stuff?
KM: I do a lot of regional theatre — a little less now because I want to be around my child so I don't want to go too far. [She indicates 14-year-old Leslie Gaines, standing beside her.] When Leslie was little, she used to come with me everywhere — to regional theatres all over the country. She's been to a lot of interesting places.
Leslie, what was it like seeing your mother and father up there on stage tonight playing a mother and father?
Lesiie Gaines: Well, I think it's better for me than seeing them play a husband or wife to someone else — because that's just weird!
Read Harry Haun's Playbill On Opening Night report about An Enemy of the People, which opened Sept. 27.