PLAYBILL BRIEF ENCOUNTER With Sherie Rene Scott; The Broadway Star Heads to 54 Below



Photo by Joseph Marzullo/WENN
*

Although Sherie Rene Scott never seemed to struggle with her career in musical theatre — originating roles in The Who's Tommy, Aida, The Little Mermaid, The Last Five Years, Women on the Verge of a Nervous Breakdown and receiving Tony nominations for her performances in Dirty Rotten Scoundrels and Everyday Rapture, as well as a nod for Best Book of Rapture — she was dealing with a personal struggle.

After 26 years of a vegetarian lifestyle, Scott said her primal desires were surfacing. She craved meat. Feeling like there was nowhere to turn, Scott began to write. Writing turned into investigating, investigating turned into exploring, and exploring blossomed into song. Piece of Meat, her cabaret show that will receive its New York City premiere Oct. 16-27 at the new Manhattan nightspot 54 Below, tells her story in a humorous way — through music — with the assistance of musical director and collaborator Todd Almond. Prior to the show's debut, we caught up with the star, who shares insight into her inner conflict.

Before rehearsals began for Piece of Meat, had you been to 54 Below? Were you able to check out a concert this summer?
Sherie Rene Scott: I was able to see Ben Vereen there, actually, because [my husband] Kurt [Deutsch] wanted to see Ben Vereen. He got into college by writing a paper on why he thought Ben Vereen was one of the greatest American performers, and he got into like every college he applied for. He loves Ben Vereen, so we went to see him.

Was it after that concert that you decided to bring in Piece of Meat or were plans already in the works?
SRS: I was already going to do it there [and was] first approached about doing something before it opened. I was already getting this piece together [with music director] Todd [Almond]. I just wanted to make clear that my piece wasn't what people would expect from a typical cabaret experience. I was looking at doing it somewhere in New York only if it was a place that understood that it was going to be [different]. Todd and I have been forming it with 54 in mind over the last few months. We took it for an out-of-town tryout a little bit away from New York…which happened to be Australia! [Laughs.] That was the safest place we thought we could get a nice, objective view of everything. We had a blast [but had] enough time to cancel [in New York] if things didn't go well. [Laughs.] It could have been, "You know what, that was good. Now we're stopping. Australia is where it needs to have lived and passed," but instead it was the opposite. It went over really well. It's an odd piece, you know. And, I could see how I wanted to improve it and get it ready for New York, so that's what we've been doing since July.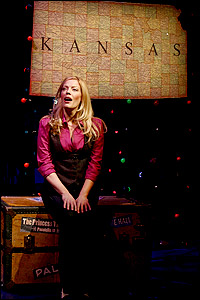 photo by Carol Rosegg
Can you give me a sense of the piece? You've said before that it's about an evolved human being facing her base animal desires.
SRS: That's really what it's about. Desires can go both ways — the desire to be an enlightened, spiritual being and the [primal] desires that we have to deal with in this human form. It's a constant struggle. We want to be our highest selves, yet we have to be our highest selves in this human body, in this time, on this planet. [Laughs.] This has been one of my biggest struggles! It definitely manifested itself with this life-changing decision that I was faced with that I did not want to have to make, but I was bombarded with… After over 26 years of the happy, healthy vegetarian [lifestyle] — never having been tempted — I suddenly found myself faced with the overwhelming desire for meat. This was obviously something I wanted to keep very private, and I was having a big internal struggle with, and so I wrote about it. And, as Todd and I worked together, just wanting to put a show together of songs that we loved and enjoyed playing, Todd noticed how much the songs reflected [my struggle]… The songs had a storytelling aspect, and he said how much they reflected this personal struggle that I articulated to him, and I thought, "Oh, no! I'm not going to talk about that." [Laughs.] It was like one of the worst things I've ever gone through in my life — the most painful, confusing time. And then he reminded me that nothing is more humorous than people's pain and suffering. I realized I had to agree with that, especially when I [had] some distance from it. Once I started to realize that there was a lot of humor in my personal pain and suffering, I thought, "Well that's worth talking about!" [Laughs.] …If it's funny and sexy and interesting, which it ended up being.
This show is basically about all the investigating I did over this one piece of meat and how I felt like I had been a piece of meat at certain parts of my life. I identified with the meat. I identified with the animal and the prey, and I had compassion for that. To find myself on the other side, it was mind-blowing. And, I wasn't just an innocent fawn in the woods all the time. I had certainly treated others like pieces of meat. There were relationships I had where I was definitely with people because of their "piece-of-meatness," really… They had it going on, you know! That wasn't my most spiritual, evolved self that was in that relationship; that was my base animal desires and needs. [Laughs.] I had to look at all aspects… How could I let go of this way of life — of being? How could I contemplate letting go of something that I truly believed in and loved just because of my own physical, animalistic, bodily desires? To eat or not to eat? That is the question. It was as if I was giving up being a woman or something… It was a way of being that was just a part of me that was not even questioned or looked at. Anyway, that is a very long version, [but] the most important thing is that there was a lot of humor in it — in the struggle — that we're finding a lot of people can identify with… And, we sing about it.