PLAYBILL BRIEF ENCOUNTER With Sherie Rene Scott; The Broadway Star Heads to 54 Below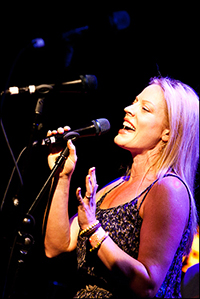 Photo by Matthew Murphy

I was Googling, and I came across a clip of you and Todd singing Annie Lennox's "Honestly." Do most of the songs in your set fall into this genre?
SRS: Basically. It falls into the genre of eclectic-mix, I guess. But it all — not just for the sake of it — suits the storytelling. We're not doing songs to reinvent them. They just seem natural to the piece and natural to Todd and I. Just being in the story, they're kind of reinvented. Being in the context of this evening that we're creating, you see them in a new way… Yeah, "Honestly" is an Annie Lennox song that Todd and I do in a duet. We do a Talking Heads song, a Paul McCartney & Wings, a Joni Mitchell, a Noah and the Whales, a Kate Bush song… And then we do some old song from the '20s — that kind of old-timey thing in a balls-to-the-wall kind of way. It's very cohesive to the evening, but they're very eclectic in and of themselves. But we were very conscious of everything. [We didn't pick] songs because we thought we needed an up-tempo, a ballad, a jazz… It just came naturally. We did a lot of investigating of songs over the course of a year and a half — sending things back and forth to each other… "Have you heard this song?" … "I hear it like this, maybe" or "I've always wanted to do this song in this way." Todd listened to songs that neither of us had heard. We're doing a song that's totally new to both of us — a couple of them. And, Todd was the first of the few people in my life that I would say, "I'm really attracted to doing songs by people who sing without any melody." [Laughs.] Like Talking Heads, where it's like, "I hear a melody in my head. They're singing in this monotone way that creates a melody in my head, and I want to sing that." And, I've tried that before, and other people are like, "No!" [Laughs.] Todd is always one to say, "Let's try it!" Things become clear as you're working on them rather than people just saying no from the get-go.

You mentioned performing songs you never heard before. How do you search out new music?
SRS: It's just research. You tune into one song that you dig, or one version of it, and then you explore that songwriter some more. Or maybe a song that you like…it's not right, but you explore that songwriter and start researching — what other songs did this guy do? Or [with] a singer — what other songs did this singer do versions of?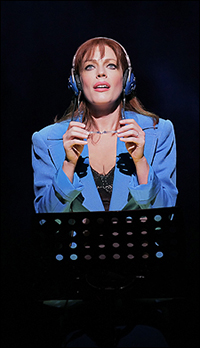 photo by Paul Kolnik

Have you used Pandora to explore different songs and artists?
SRS: No. I mean, I love Pandora, but more for while I'm working or writing…just to listen. But, I'm much more of a reader. I'll read something, and it will inspire me to start looking at things. Now that iTunes has that you can listen to songs for so long, I can get an idea if it's something that I want to purchase or download. I'm a co-owner of a record label, so I am somebody who does feel like I should buy music rather than just stream it. [Laughs.] If I care enough about it, I want to pay the price and own it and give the people their money.

How did you initially link up with Todd?
SRS: One of the reasons for looking for [a collaborator] was because of these base animal desires welling up in me, and I thought one of the reasons why I was having this kind of hunger for flesh was because I was exhausted from doing 15-20 years of Broadway shows — a new show practically every year. I thought, "I've got to get out of this." I was literally willing to give up doing Broadway shows if that meant I could stay a vegetarian. I was really trying to hang onto that. So I said, "I want to create, obviously, and write and sing. I want to enjoy singing again." I really wanted to get back to how I started singing, which was just with musicians and writing music and playing music that I love and [performing at] more intimate spaces where I could express [myself]. Somebody gave me Todd's name. He had some CDs out of his own music, and I started listening to some of his CDs online, and I thought, "I love his music. Would he be willing to work with me on other music, too?" He's so brilliant [that I thought] it would be boring for him to work with me arranging other music. But then when I talked to him on the phone I just loved him. He's like a sane, kind, brilliant, genius gentleman. And, he showed up! That's a big thing. He showed up every time and was ready to work and was interested in trying things.