PLAYBILL BRIEF ENCOUNTER With Yvonne Strahovski, Golden Boy's Incandescent Lorna Moon


*

Yvonne Strahovski is lighting up the Belasco Theatre in her Broadway debut as Lorna Moon in Lincoln Center Theater's revival of Clifford Odets' Golden Boy, which first opened on Broadway, at the Belasco, 75 years ago.

Strahovski, 30, portrays Lorna, "a tramp from Newark" with a very New York accent who is the mistress/fiancée of married boxing manager Tom Moody. Moody manages Joe Bonaparte, the Golden Boy of the title, who has given up the violin for the financial lure of the ring. Lorna falls in love with Joe, and he with her, and she must decide whether to choose him or stay with Moody.

A native of Australia — her parents immigrated from Warsaw, her father an electronic engineer, her mother a lab technician — Strahovski is best known for TV and movies. On TV, she was CIA agent Sarah Walker in "Chuck" and is a serial killer and Dexter's love interest on this season's "Dexter." On film, she appeared with Robert De Niro in "Killer Elite" and is playing opposite Barbra Streisand and Seth Rogen in the comedy "The Guilt Trip," in theatres this month.

The Golden Boy cast includes Seth Numrich as Joe, Tony Shalhoub as his father, Danny Mastrogiorgio as Moody and Danny Burstein as Joe's trainer. The director is Bartlett Sher, who directed a highly praised revival of Odets' Awake and Sing! for Lincoln Center in 2006. Playbill.com connected with Strahovski, and her Australian accent, for a chat a few days after the Dec. 6 opening night.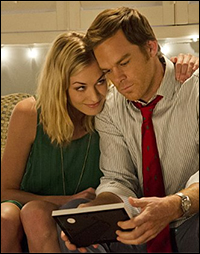 Showtime
You, the rest of the cast, your director and the production have received many glowing reviews in the last few days. How does this feel, especially in your Broadway debut?
Yvonne Strahovski: We sort of as a cast decided not to read the reviews, because we want to keep focusing on the work itself and doing a good show every night. Obviously, it's hard to avoid — we know there've been good reviews, and I certainly woke up to a thousand e-mails and text messages from people congratulating me. So it's nice to know, but at the same time it does get in your head a little bit. And it can sometimes be a little distracting — only for the performances, where it makes you realize that the people are in fact watching you. I know that sounds silly. Obviously they're watching you in the audience. But it sort of draws attention to the fact that they're watching you, and it's nice to stay in the zone of working with the actors onstage to create a good show every night.
You were quoted as saying late last month that "Honestly, I do feel a little bit like a fish out of water. A, I've never done a Broadway play. B, I've never seen a Broadway play. C, I'm Australian. And I'm an Australian coming in to do a classic American play that is set in the 30s. It's been challenging on all fronts." Could you expand on that, and how you dealt with that challenge?
YS: It's been a lot of hard work in compressed time. In rehearsals, which were four weeks, sort of coming on board with an American cast to do this classic American play. I was on fast-forward a little bit, I think, because I was catching up to the content and the history of the play, and Clifford Odets, and the accent as well, which was a big focus of mine, obviously, because it really is one of the most important things that shape the character of Lorna Moon. That's such a specific sound from a specific era. I really wanted to work on that and get that right. Being an Australian, it was a little overwhelming. I had studied it before in drama school. We did touch on the New York accent, but certainly not as intensely as I have in the last two months.