PLAYBILL ON OPENING NIGHT: An Enemy of the People; Boyd Gaines Against the World
Hovstad's printer, Aslaksen, is handled with easy authority by Gerry Bamman, who, even in a small role, betrays a thoroughgoing understanding of Ibsen. He personally did the translation for a Peer Gynt that Richard Thomas did with distinction at Hartford stage for director Mark Lamos.

"I used to do translations quite a bit, but I haven't done it now for a while," Bamman confessed. "Ibsen was a particular favorite of mine. And, also, I got started doing translations because of him. I was acting in an Ibsen play and the translations we were doing were so unspeakable that I felt I had to do something about it."

Dr. Stockmann's unyielding, myopic Rx for the town leaves no room for practical considerations, creating barriers even in his own home, said Kathleen McNenny, who speaks for and as Mrs. Stockman: "It's not that she wants him to give up what he stands for. She wants him to do it in a way that won't jeopardize her family's livelihood. She doesn't want him to make her family destitute."

In real life, Ms. McNenny can speak as Mrs. Boyd Gaines, and she brought along their 14-year-old daughter, Leslie, to see Mommy and Daddy on stage playing Mommy and Daddy. "It's better for me," Leslie quickly admitted, "than seeing them play husband and wife with somebody else because that's just weird for me."

One of the more consistent stalwarts in the good doctor's camp, Captain Horster, got a very solid rendering from Randall Newsome. "I like that my character is laconic and steadfast, and I enjoy playing that because it reminds me to be laconic and steadfast. Sometimes, I talk too much so this is a good reminder."

Gaines and Thomas interact with fraternal familiarity although they have never worked together before, and Thomas said it came naturally to both of them.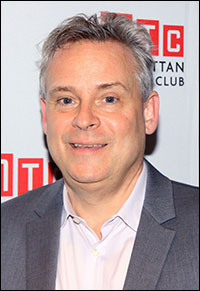 Photo by Joseph Marzullo/WENN

"Boyd and I work very much the same way," Thomas explained. "The whole point of this, really was, when we did a reading of it at MTC months ago, the chemistry that Boyd and I had — that's what made it exciting for me. My job is to make it about brothers."

And it bothered him not a whit that he has been cast in a darker shade than Gaines' saint-concentrate: "I like how human Peter Stockman is, and I like how hideous he is — and I don't think he's just that. I think that he means exactly what he says. He's not a cynic. He's absolutely truthful and straightforward about how he feels about things."

In his Playbill bio, Thomas pointed up his two imposing Ibsen credits and elaborated in person. "I did a Peer Gynt at the Hartford Stage for [director] Mark Lamos," he beamed, then breaking into a real happy smile, "I played one of the kids in a production of A Doll's House on 'Hallmark Hall of Fame' in 1959 starring Julie Harris, Christopher Plummer, Hume Cronyn and Jason Robards. I was a baby" — but a Broadway baby even then, playing one of the Roosevelts in Sunrise at Campobello. "James Earl Jones and I made our debuts on Broadway in that."

Jones, with wife Cecilia Hart, and the other two-time Tony-winning Jones, Cherry Jones, were present to lend appropriate twinkle and shine to the evening.

Also there: playwrights David Henry Hwang, Terrence McNally and Michael Weller, character actress Phyllis Somerville (in Nicole Kidman's film, "Stoker"), A.R. Gurney Jr. (bracing to start previewing his Heresy play with Kathy Najimy and Annette O'Toole Sept. 30 at The Flea), Judd Hirsch (waiting for Michael Cristofer to stop acting and start rewriting the play they've been trying out, The Whore and Mr. Moore), Jan Maxwell and Robert Emmet Lunney, Dylan Baker and Becky Ann Baker, Tate Donovan, Kelli Barrett and Jarrod Spector, Kate Jennings Grant, JT Rogers (writing a new play, not resting on his recent La Jolla Blood and Gifts laurels), Jessica Hecht, director Pam MacKinnon, Michael Learned (up soon at 59E59 Theatres in The Outgoing Tide), Lorenzo Pisoni, producer Tom Kirdahy, Tony Roberts, Driving Miss Daisy's Alfred Uhry, Starr White, director Kate Whoriskey and a Glengarry Glen Ross contingent — Bobby Cannavale, Jeremy Shamos and Richard Schiff. While Glengarry is playing, director Hughes and Schiff will be rehearsing another Pacino part, Hughie, for The Shakespeare Theatre in Washington, DC.