PLAYBILL ON OPENING NIGHT: Annie; Another Sandy Hits NYC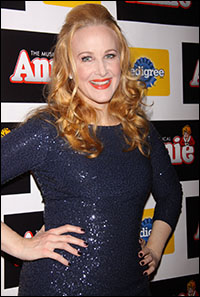 Photo by Joseph Marzullo/WENN

The opening-night party was held at the Hard Rock Café, an unseemly site you might think given the abundance of youngster milling/marauding about — but paper cups of Shirley Temples were lined up for them. For the grown-ups, there were the grown-up Shirley Temples (Sierra Mist, grenadine, and Bacardi torched cherry). In real life, it might be uncharitable to note that Shirley Temple has grown up to age 84.

Reversing the youth-wants-to-know trend above, Lin-Manuel Miranda brought his dad, Luis. "I'm working on a TV show with Steven Pasquale in Philadelphia called 'Do No Harm,'" he said. "It'll air in the spring on NBC, so I'm half-writing, half-acting."

Choreographer Blankenbuehler apparently found teaching the Annie tots their baby steps habit-forming. His next is a new Peter Pan musical called Fly. "It's a whole cast of kids," he said. "We're going to do it at the Dallas Theatre Center next spring."

Set designer Korins, who displayed his ingenuity and flair for tricks with Chinglish and The Pee-wee Herman Show, came up with a chandelier here that, on cue, unfolds into a crystal-strung Christmas tree, but he found Annie a bit daunting initially.

"This is the first-ever reconceived, non-Martin Charnin version production of the show, so I felt a huge responsibility to them," he said. "I wanted the show to feel surprising in the look and inevitable. When you go to Daddy Warbucks it gives you the things you're hoping and dreaming for, but it shows them in a new, exciting way.

"I think what I most like about the show is that there's a way into it for every single person — no matter what age or demographic. It's a show about hope, about people finding a family and starting a new life together. I've had such a blast working on it."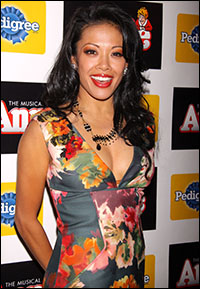 photo by Joseph Marzullo/WENN
Clarke Thorell, an affable and unflappable type of character comedian, sprouted a mustache for the comic villain Rooster Hannigan, Miss Hannigan's equally no-account bro. "But it grew in light — very blond — so I have to darken it in for the show and for the party tonight," he noted, but that's a small price to pay for "Easy Street."
His high-struttin' low-life partner in crime, J. Elaine Marcos, takes particular delight in doing that number with Thorell and Finneran. "To be on stage and hear the horns and all the music is a treat. The orchestration makes it just a sell-it number. There's nothing about it that you really have to think about; you just gotta feel good about it. Working with our musical director [Todd Ellison], when he said, 'You really got to make this a trio,' — when he said trio — this famous trio song — I thought, 'I'm part of this.' I can't believe my good luck, so I'm really very happy to be on stage and do that."
This is Marcos' second consecutive time to play the Palace and the second time her leading man has been an Aussie. "The Australians have a bad reputation for being the sweetest people in the world," she said, citing first Tony Sheldon, the Tony-nominated Bernadette of Priscilla Queen of the Desert and now Anthony Warlow, the Oliver Warbucks of Annie. "I can't wait to see Tony again," she gushed.
Sheldon was there to see a countryman take up the Palace torch, but also noted, "It's the first time I've ever watched the show from the audience at the Palace."
For the present, Sheldon is lingering a while in this country, jobbing here and there. "I just finished a movie, 'Something Whispered,' starring Cuba Gooding Jr., and I've got a couple of benefits coming up — one for Actors' Temple — and next month I'm doing one of the Project Shaw readings, Saint Joan. I'm playing The Inquisitor."