PLAYBILL ON OPENING NIGHT: Annie; Another Sandy Hits NYC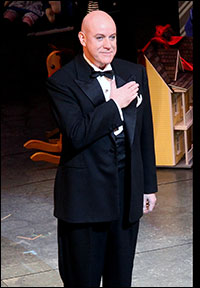 Photo by Joseph Marzullo/WENN

"I never worked with him, but we're friends," Warlow said of Sheldon. "His partner, Tony Taylor, was once Sancho to my Don Quixote, and his mother, Toni Lamond, was my Mrs. Pierce in a Fair Lady I did Down Under. That's how I know him."

Warlow's booming voice works well, not only in songs here but in barking out captain-of-industry edicts to A-list authority figures like FDR and J. Edgar Hoover. "For a little boy from Woollongong, Seaside Town, in New South Wales in Australia, to be asked to come to Broadway to play an iconic New York character is a pretty big thing for me," he said. "Warbucks is the kind of character that's a tough role for any actor, I think — because the drawing of the character is quite broad. Sometimes the dialogue can be skeletal, but to be able to put interesting flesh on that has been my challenge. And the mentorship of James Lapine has made it very interesting for me.

"Broadway has been a long time in coming, but I have to say there's something about the community which makes me feel very comfortable. If there's any great fear about standing on that Palace stage, it was gone tonight. I've found audiences have accepted me, and so has the community — that's been the biggest thrill for me."

As you can gather, he has knocked off his share of iconic roles back home (The Phantom of the Opera, Guys and Dolls, Les Miserables), so he's well-versed in what's expected of him here. The pick of this litter, for him, is Archie Craven in The Secret Garden. "I adored that — perhaps because my daughter was just born that year. It's a magical show about children and redemption, the redeeming qualities of children."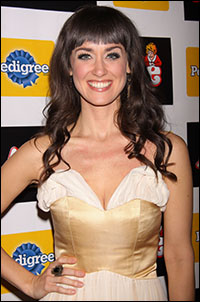 photo by Joseph Marzullo/WENN

Contrary to what you might have suspected, Warlow didn't have to shave his head to make his Broadway debut as Daddy Warbucks. "This is kinda me anyway," he admitted. "I had lymphoma when I was 30, and I lost all my hair with chemotherapy so I decided to keep it that way. I've been like this for nearly 20 years. One day, I'll come back and play a role where I have lots of hair and a beard. I have to say the wigs they make in America are fantastic, the way they flow, the way they're so real."

As Grace Farrell, Warbucks' cool, smartly tailored girl-Friday, Brynn O'Malley is a constant source of calm dignity and reason on a turf frequently cluttered with chaos.

"That quality kinda became the character, O'Malley admitted. "James Lapine and I had many conversations about, as I like to say, 'justifying gratuitous stage time.' She's out there on stage a lot, and it's very easy to make her story a smiling backdrop, so we tried to find what is her specific role. She doesn't really become a love interest for Oliver Warbucks for real until the last five seconds of the show — so what is she there for? There are little hints, little ideas in the script. It's pretty obvious. You know what's going to happen. The show's not a love story about Grace and Daddy Warbucks, so we tried to find a real purpose for her, make her specific."

The role, as written, is musically minimal. "I do a lot of starting songs for eight bars and then going off and changing my costume while everyone comes in. but 'I Think I'm Gonna Like It Here' is kinda Grace's song." Otherwise, she sorta suffers in silence, sans any big "I Don't Know How To Love Him" moment. "This story is not about that. I'd say if there's a love story it's between a future father and a future daughter, and I guess I'm the added bonus to that — that she gets a mommy at the end."