PLAYBILL ON OPENING NIGHT: Annie; Another Sandy Hits NYC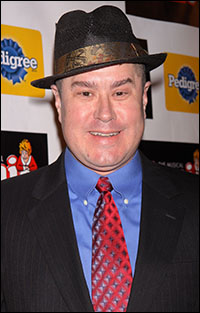 Photo by Joseph Marzullo/WENN

Jeremy Davis has a dandy time emulating the distinct sound of the old radio crooner with that nifty ditty, "You're Never Fully Dressed Without a Smile," which spreads into an orphanage workout. "I worked on it a lot," he admitted. "Basically, what I'm doing is a bad impersonation of Rudy Vallee. I listened to him quite a bit."

Whoever plays FDR in Annie, somehow winds up looking and behaving exactly like him — Raymond Thorne in the two previous Broadway productions and now Merwin Foard. "The chance to play FDR is remarkable," allowed Foard, who is looking forward to what Bill Murray does with the part in "Hyde Park on Hudson," Richard Nelson's new flick. "There's a lot of responsibility to being a president, especially at this time in our lives with this recent election, so I couldn't be happier."

The White House scene he presides over, where brave bromides bounce off the wall and Annie teaches him and his august cabinet to sing "[The sun'll come out] Tomorrow," carried a strong resonance on opening night, prompting the audience to respond with cheers, laughter and applause. "That was a bit of a curve ball. I told the guys when we left the scene that will be one of the few in their careers where a dramatic scene actually stops the show. It was very exciting for all of us."

Meehan noted, too, that the scene he wrote 35 years ago played younger than springtime: "I suddenly realized the fact that Obama won, made the scene a bigger success. It was like a celebration of the election as well as the show. One reason I wanted to do the show again was because I felt this time echoes the Depression."

Annie is one of two Meehan shows bowing on Broadway this week. His Elf from two years ago begins its holiday reprise Nov. 9 at the Hirschfeld, and this season's new Meehan offering — Chaplin — continues charging away at the Barrymore, bolstered by its just recorded original cast CD. On Nov. 10, he's off to Hamburg to attend the world-premiere of his Rocky musical on Nov. 18. No grass growing here.

Late-arriving for the festivities was Finneran's husband, Darren Goldstein, who raced over from his own show, The Good Mother, which The New Group premieres Nov. 15 at the Acorn Theatre on Theatre Row. Gretchen Mol has the title role on stage; Finneran gets to live it in the Goldstein home where sons Ty and Wes reside.

Others in attendance: Kathy Najimy; lyricist Amanda Green (Birdland-bound Nov. 26) and hubby Jeff Kaplan; fit-to-be-feted-by-Abingdon-Theatre (on Nov. 19) Jamie deRoy, the producer-comedienne; Anita Gillette; actor-singer Jonathan Dokuchitz and Astaire Award-winning dancer-choreographer Michael Arnold ("I did Billy Elliot with the little girl who played Annie. She played Debbie, and she was so good in that. The first week I saw her I told her mom she was a star."); Steve Guttenberg with Eva Price; orchestrator Michael Starobin; The Secret Garden composer Lucy Simon; comedienne Caroline Rhea ("I have a Lifetime movie coming out Saturday, 'The Christmas Consultant,' with David Hasselhoff"); costume designer, Susan Hilferty, wearing red; Amy Irving of ABC's "Zero Hour," with hubby Kenneth Bowser; "Saturday Night Live" player Bobby Moynnihan, and Laura Osnes.