PLAYBILL ON OPENING NIGHT: Brief Encounter — A Coward With Thunderbolts



Photo by Joseph Marzullo/WENN
*

So this is the way the season begins — not with a bang but with a barrage of British accents. The first batch to rush in where Broadway angels notoriously fear to tread is a Coward — Noel by name — with his arched and terribly, terribly civilized Brief Encounter, and it's followed two days later by another of Lee Hall's up-from-the-mines-of-Northeast-England sagas, The Pitmen Painters, and on Oct. 3 by the Shavian palaver and pronouncements of Mrs. Warren's Profession. The Brief Encounter that alighted Sept. 28 at Studio 54 is quite a different animal from the one that Sir Noel and his director, David Lean, fashioned into a classic screen romance from Still Life, one of the acts in Coward's Tonight at 8:30. That one, in its repressed, pressed-rose sort of way, told of the chance meeting of a young doctor and a suburban housewife, both married with kids, who fall in love and struggle to consummate their feelings (the time, the poor dears, is 1945). He removes a speck of grit from her eye, and they then teeter from cinder to sinner, with Rachmaninoff's "Second Piano Concerto" thundering away like hell on the soundtrack to underscore their romantic misery. Is it any wonder that The History Boys could — and did — quote chapter and verse from the film?

This new edition, drastically overhauled by adapter-director Emma Rice to force the feelings to the top — and then over the top — is a kind of emotional annotation of what was sadly left unsaid in the original film.

"Oh, I love the Britishness of it, the reserve, the unspoken passion," Rice readily confesses, "but, of course, I decided to direct this show after I've passed that point in our lives of loving somebody we shouldn't love and having a love that's impossible so it was a very simple recognition that I have for the show. I'm in there."

She can't, for the life of her, remember the first time she saw the film, but it was as a child and always on the telly. "It's the sort of movie that's on a Saturday afternoon or when you're out sick from school. I've never seen it in the cinema." [flipbook]

What would Lean think of this? "I would hope he would like it, and I'd like to think Noel Coward would as well. They are his words, give or take a very few exceptions. This show is done only in reverence to the film and the words. I hope there's nothing they could be offended by, but we're all storytellers and this is the 21st century. It's a really famous film, so I wanted to honor the fact that it was a film. I also knew that this is a piece of theatre. I love theatre more than anything. I love theatricality so I wanted to use the two, and vaudeville and comedy are a great homage to theatre."

Rice, the artistic director of Kneehigh Theatre in England where the show took shape and then took off, led the hip-hip-hoorays at the opening-night party at Planet Hollywood. "At Kneehigh," she told the crowd, "we happen to have a name we call ourselves privately, which is The Church of Lost Causes. Often it feels like nobody's noticing or nobody's watching or nobody cares. And tonight really proves that to be not the case. I like the word Church because, really, this show is based on such a commitment to the belief in theatre and the belief in other people and the belief in community. We love making theatre — all of us — because it's about communion — a communion of an audience watching a show, a communion of a group of artists making a story together, a communion of working with an amazing artist like Noel Coward and a communion of working with a lovely company like Roundabout."

Special drinks at the party were provided by Rokk Vodka and named after the play's star-crossed lovers. You had your choice of "Alec's Frustration" or "Laura's Temptation," and, if you mixed them, you'd have Rokkmaninoff ringing in your ears.

All of the actors in the plays are making their Broadway debuts with this production, save for the newest and youngest member of the cast, Gabriel Ebert. Just out of Juilliard, he has already understudied Eddie Redmayne's role in Red. A long-stemmed gangly youth, he romances the tea-room assistant (a deliriously comical Dorothy Atkinson) and helps himself to an assortment of Coward ditties — nine in all — that have been gingerly sprinkled throughout the proceedings (some of them arranged and/or composed by Stu Baker).

The remainder of the cast was aboard when Brief Encounter touched down briefly for seven weeks at St. Ann's Warehouse in Brooklyn last September. Tristan (don't you love it?) Sturrock, who has been playing the momentarily wayward Dr. Alec for three years now, applauds his new port o' call: "It's magic to be in Studio 54 — y'know, the history, the way the show sits in the space." Changes have been slight since Brooklyn, he says. Basically, the railway tearoom, which is the play's principal set, has been extended over the footlights to a series of tables at the base of the stage. "It allows the action to spill forth more easily so maybe there's even a stronger sense of connection."

An interesting side effect of this addition is that black silhouettes are constantly dashing out of the audience and onto the Technicolor of the stage, producing a "Purple Rose of Cairo" effect. "That's something we always wanted to do right from the very beginning, and we referenced that film as well — the idea of going in and out of the film because it's an homage to 'Brief Encounter' the film. It's also how the love affair develops — they go to the pictures together — and so it's absolutely right that it has that sense of going in and out of film. It's a combination of all those elements."

Hannah Yelland, who plays his opposite number, the equally romantically tormented Laura, has her favorite new special effect: "They have added another chandelier, so the two of us get to swing now — not just me. It has been great fun."

In this vaulted romantic moment, the two levitated with love, swinging from their respective chandelier and eventually kissing in midair, showered with a blitz of glitz, which isn't as difficult as it looks, she insists. "That has a momentum of its own."

Yelland has seen Celia Johnson's original Laura — she was the New York Film Critics' choice for Best Actress in the '40s — and she concedes that they have very different styles and very different demeanors. "Laura is passionate, longs to be free, has a child-like spirit which Alec awakens in her. It's a wonderful journey to go on every night."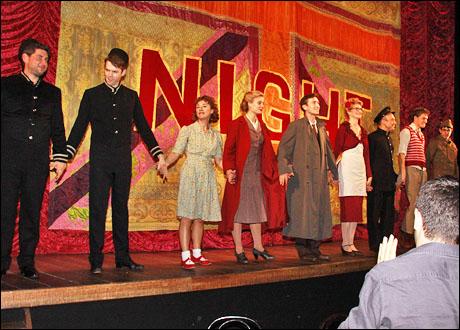 photo by Joseph Marzullo/WENN