PLAYBILL ON OPENING NIGHT: Buyer & Cellar — Hire Down Below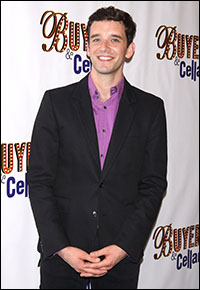 Photo by Joseph Marzullo/WENN

When young Urie made a fashionably late Star Entrance into the long and densely congested corridor of the tavern, it could have been Cleopatra's entrance into Rome for all the hugs, kisses and well-wishes he received. It got everything short of palm leaves.

Urie's greased-lightning performance is much like a conductor orchestrating a pretty constant concert of hysterical laughter, and his muted smile masks laughs inside.

"There are a few moments that really tickle me from time to time," he admitted. "Sometimes, I just get a kick out of how funny the audience find moments like 'Mimi Rogers, perfectly cast as her sister in 'The Mirror Has Two Faces' — what?' That just tickles me. There are points where I let myself get tickled by them. The audience is so different from night to night. I realized this early on — maybe I shouldn't tell you this — but I could tell that they love it when I laugh, so I let myself do it occasionally."

Lauren Bacall won her only Oscar nomination playing Streisand's mother in that film, and the scene where she tells Babs that she was really the pretty one was described as being "delivered with the determined sincerity of a hostage video."

Urie is totally in the moment all 90 minutes — you never know where he's going to leap or riff. "They say that actors, when they're in the moment and something changes, forget their lines. Not me. I think of my lines all the time. My God, it's a story, and I like to remember what happened. It's totally different every night."

One of his opening-night guests, Holland Taylor, mud-wrestled him for the year's best solo performance awards. He got the Drama Desk Award, and she got the Outer Critics Circle Award.

"She and I have become friends on e-mail," he said. "I'm from Texas, and I took my parents to her show, Ann. My mom always said my dad's mom, whom I didn't know very well, was a lot like Ann Richards. So, for her to come to my show tonight was incredible. It was just so wonderful to meet her. I really love her. There are a lot of famous people here tonight. I heard Tyne Daly was here."