PLAYBILL ON OPENING NIGHT: Buyer & Cellar — Hire Down Below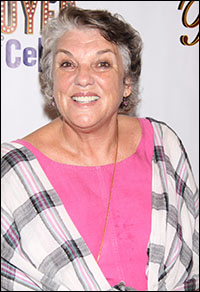 Photo by Joseph Marzullo/WENN

Since I sat right next to her, I confirmed her attendance and said she laughed a lot (albeit, not so much at the stuff about Gypsy, her Tony-winning vehicle). She just finished the Bucks County Playhouse world premiere of Terrence McNally's Mothers and Sons with Manoel Felciano and Bobby Steggert. Like "Andre's Mother," McNally's Emmy-winning PBS movie of 1990 with Sada Thompson and Richard Thomas, it's about the relationship between a mother of an AIDS victim and his surviving partner. In fact, said Daly, "it's a new imagining of those same characters 20 years later.

"I saw the movie a long time ago. Before that, it was a 10-minute sketch for a fund-raiser in which Andre's mother neither spoke nor moved — as I understand it. I haven't seen it, but it's not important for me to investigate the past lives of things."

This engagement was a sentimental journey for her. "I got my Equity card at the Bucks County Playhouse in 1963 in a Jean Kerr play called Jenny Kissed Me with my dad, my mother, my sister and my brother. To play there 50 years later was full of ghosts. I hope we get the use of that house to try stuff out. My dad tried out a play there called The Advocate the summer before. In 1963, they were trying out a show called Nobody Loves Me. Ever hear of it? Second hint: Mike Nichols directed it. Third hint: It starred Robert Redford." Ah! Barefoot in the Park. "They saw it out of town, and they threw out the entire first act. 'The play doesn't start with them in Italy. The play starts when they arrive at the apartment.' That sort of stuff is theatre to me."

Playwright Tolins spent opening-night at the back of the house, undoubtedly blissed out by the ecstatic reception. "It's wonderful when you stumble onto something that people seem to like so much," he admitted. "I have to say, every night we get a response like this. The audience just really connects with Michael and gets invested in the story and starts to believe this crazy story is true. Every night they go on this journey of watching these two people have a relationship and get to know each other. I love sneaking in the theatre and watching it because I feel extremely proud.

"I worked on it off and on for a year. I was working on other things [like Urie's short-lived TV series, 'Partners'], but then, at the end, the last third came very quickly, and I finished it last summer. It takes a lot of work to make it seem spontaneous."

Yes, he had to kill his darlings. "There was a lot of cutting in the rehearsal period. The script was ten pages longer than it is now. Now it is down to Page 59, single-spaced — but I write it like a play so each character gets a new character setting."

"My Passion for Design" sent his imagination soaring. "I said to someone, 'How'd you like to be the guy who works down there?' Then, it just started coming very vividly in my head, thinking about a guy stuck in that job and Barbra coming down to haggle over the items, which is something she is famous for doing in antique stores.