PLAYBILL ON OPENING NIGHT: Buyer & Cellar — Hire Down Below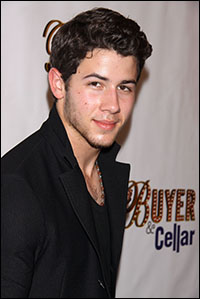 Photo by Joseph Marzullo/WENN

"I started wondering what would their relationship be. Why would she want someone down there? What fun could she have with them? Also, I know a lot of struggling actors in L.A. and the kinds of weird jobs they end up taking. I was in L.A. when I got out of college, and I was a temp when I started, so I know those jobs.

"I've always loved assistant characters. I've written them before — in Secrets in the Trade and If Memory Serves. I like writing about very unequal relationships where one person seems to have all the power and yet that character cares very much what that powerless person thinks of them and how they negotiate that space."

The third major ingredient of Buyer & Cellar is its director, Stephen Brackett, and you have to ask how he manipulated such a nuanced performance from his star. He opted for dirt-kicking modesty: "Listen, when you're working with Michael and that script, it's like 'Let me not screw this up.' That was my M.O. the entire time.

"I just think the world of Michael. A great thing about the transfer is, with time, he has been able to get even deeper with the material. I was blown away by him. I just find his performance so rich and fulfilling. The beautiful thing about working with him is that it's a collaboration from Day One. We knew from the very beginning that we wanted to make this something that was tailored to Michael and showcased him, so we just started off with a conversation. We would bounce ideas off each other. The result of what you see is really a conversation between Michael and me.

"We said from the very beginning that we wanted this show to feel like your best friend telling you the most amazing story. Something we worked on was bringing that familiarity to the audience, and that's one of the ways it manifests itself is the way he shares the joke with us. And he knows how to do it. I've learned from him how to sell a joke, how to tell an audience where a joke lands. He's brilliant at that."

Considering the intimate affection that greeted Urie's opening, it might well have been a cluster of BFFs. The evening was far starrier than most Off-Broadway liftoffs. Numbering among the push-over converts were Nick Jonas, whom a Broadway-debuting Urie tried to trip on the corporate ladder in How To Succeed; Roma Torre; Oscar-nominated Gabourney Sibide; "Queer as Folk" folks Michelle Clunie and Randy Harrison (the latter just co-starred with Urie in a caper comedy called "Such Good People" in the time it took Buyer & Cellar to switch theatres); Noah Robbins, from Tolins' Secrets of the Trade; Peter and the Starcatcher's adapter (Rick Elice) and co-director (Roger Rees); and, author of "Blown Sideways Through Life," Claudia Shear.

Two of Urie's "Ugly Betty" co-stars, Vanessa Williams and Mark Indelicato, showed, and he spent a lot of party time with them in appreciation. He has credited Williams with helping him go from a bit part in the pilot to series regular all four seasons of the show. For Williams, who struck up instant chemistry with him, that was a no-brainer. "He's the one I knew would be incredible — we couldn't let him go," said Williams. "This is my second time seeing it. I saw him at the Rattlestick. I'm so excited that it's actually moving to the bigger theatre. He's so good and does different stuff. Angels in America and The Temperamentals were completely serious."